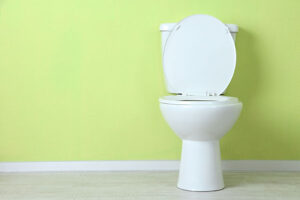 We have customers call our Sarasota plumbers quite often, with the question of when I flush my toilet, why does it take forever to fill?  This is a common bathroom plumbing problem, because the majority of toilet tanks use the same type of a water measuring device commonly referred to as a ballcock or a fill valve.
Toilet Fill ValveS
Typically in years past, a ballcock in a toilet tank had a float arm with a float ball attached to it. The most common style of water measuring devices in toilets today would be a fill valve. This style of measuring device stands up vertically in the left hand corner of a toilet tank. Over time, the chlorine or just age, will cause the rubber seal inside to swell up and this will cause the fill valve to fill up slowly. Sometimes, debris will clog up the orifice inside the fill valve, and also cause it to fill slowly.
Toilet Fill Valve Replacement
The most inexpensive way to correct the problem, would be to buy a replacement seal, available at most hardware stores or from your Sarasota plumber. After buying the seal, you would need to turn off the water to your toilet and disassemble your fill valve. It comes apart quite easily by twisting the upper half from the bottom half. Make sure the water got completely turned off though, because if it didn't, the water is likely to shoot all the way to the ceiling. This would cause your spouse to lose confidence in you. So, you have twisted the fill valve apart and you see the rubber seal you need to replace. Pry it out carefully as to not bend the pin in the center. Install the new seal and twist the unit back together. Turn on the water and test it.
What to do When Your Toilet is Filling Slowly
The preferred method of repairing a toilet tank that fills slowly is to just replace the entire fill valve with a brand new one. This ensures that it will work, in case debris was stuck in the old fill valve that you couldn't. Plus, if your plumber in Lakewood Ranch, Bradenton or Sarasota is doing the work for you, it would come with a warranty.  Make sure to replace the supply line from the shut-off valve to the fill valve with a stainless steel braided supply tube to ensure positive leak-proof connections.
Have your slow-filling toilet taken care of by a licensed Sarasota plumber from Wimpy's Plumbing & Air!