Best AC Systems for Florida Homeowners
If you're getting too hot at home in Florida, then it's time to install a new air conditioning system. There are several types of cooling systems to choose from! Call us at Wimpy's Plumbing & Air for cooling services in Florida and help choosing the best AC system for you and your family.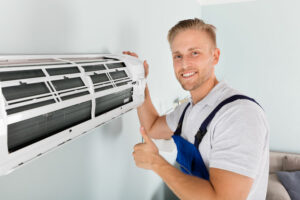 Window Air Conditioners
These are best in spaces that do not have air conditioning and where you cannot install it for some reason. For instance, some homes cannot be retrofitted for any other type of AC system. Renters like these air conditioning units because they are easy to install and portable.
Portable Air Conditioners
If you can't install another type of AC and you don't have a window that can support an air conditioner, then a portable unit might be right for you. These use a long hose to suck in air from outside. Then the unit cools the air and lowers the temperature in your Sarasota home.
Central Air Conditioning
This is the traditional type of AC that most people think of when they think of air conditioning. It isn't the most efficient type of cooling but it does allow you to cool your entire home all at once. If you want to do AC installation in Sarasota with this type of system, it takes a lot of planning and a significant amount of time to make sure the job gets done well.
Hybrid/Heat Pump Systems
These systems switch between gas and electricity, depending on what is more efficient at the given time. In the summer, the system will pump the extra heat out of your home to cool you off. In the winter, it will pump heat into your home to help you stay warm. These air conditioning units can help you stay comfortable for less money! Contact us today for AC replacement in Sarasota to get started with your heat pump installation.
Ductless Mini-Split A/C
If you only want to cool certain rooms in your home or your home won't support retrofitting for central AC, a ductless mini-split system will help you get cool. You can install as many as 4 indoor units connected to one outdoor unit to stay comfortable inside your Florida residence.
Call Now For AC Installation in Sarasota
The HVAC experts from Wimpy's Plumbing & Air can help you choose the best air conditioner for your home. We'll work with you to evaluate all of the relevant factors, then help you select among the many types of air conditioners to get one that you will love and that will keep you cool for many years. We are the top air conditioning service in Florida for AC installation and replacement since 1973, so you can place your trust in us. Call now!