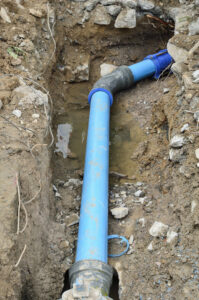 Modern plumbing systems are so commonplace that it can be easy, at times, to forget about them. Of course, this is only the case when they are in proper working order. When problems develop with your plumbing system, you'll be reminded in very short order of just how vital your plumbing is to your daily routine. There are many different components within this system that allow it to function as needed, and your water line in the Sarasota, FL area is certainly one of the most important.
If you want to ensure that you are able to deliver water from the municipal supply into your home reliably and safely, then you must schedule your water line installation, replacement, repair, and maintenance services with qualified plumbers that you can trust to do the job right. Ours fit the bill perfectly. Contact Wimpy's Plumbing & Air to schedule top-notch water line services today.
Water Line Installation
While a water line installation is certainly not an uncommon or exotic service, it is one that you must know for certain is completed with the utmost care. The reasons for this are many. First of all, you need to know that your water line is constructed of a material that can stand up to the job. This can lead to some price fluctuation as well, so it is important to discuss your options with your plumbing professional.
You should also know for certain that your water line is of the right size, in order to manage water pressure and supply properly. With all of these considerations to make, not to mention the actual installation of the water line and your meter themselves, it becomes pretty clear, pretty quickly, just how vital a great water line installation truly is. If you need a brand new water line installed on your property, or want an old line replaced, we're the pros to call.