Bathroom Plumbing Sarasota, FL
The bathroom is the part of your home that has the most water move in and out of it in a day. Keep this vital portion of your home running smoothly with the help of our expert plumbers. We offer bathroom plumbing in Sarasota, FL, and the surrounding areas, including complete installation, repair, and maintenance services.
Our highly trained Sarasota plumbers are some of the best in the area. Wimpy's Plumbing & Air is your one-stop-shop for bathroom plumbing installation and repairs of any size we can even provide bathroom remodeling in Sarasota. From cleaning out a drain to replacing a toilet to fixing a leaky shower, you can count on our team to be there for your home at any time of day. We bring the right tools for the job and cleaning supplies, and we always respect your property and your time.
Why choose Wimpy's for your Sarasota area Plumbing needs?
Our employees are fully-trained & licensed technicians so you can trust we get the job done right.
We'll show up on time and work hard to get you the very best solution to your problem.
We've been trusted in the community for 50 years!
How Can We Help?
Call us today for all your Plumbing needs!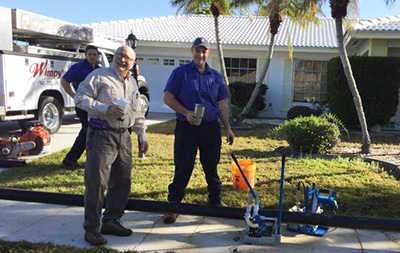 Are you in need of a Saratota bathroom plumbing upgrade? Ready to replace that old sink or faucet? Looking for a water-efficient toilet or shower? Here are a few ways we can help you update your bathroom.
Sinks: We want to help you to update the design of your bathroom sink. Maybe you want a second sink so that multiple family members can brush their teeth at once, or perhaps you are looking for a sleek faucet that matches the hardware on your bathroom cabinetry.
Toilets: If your toilet was installed before the 1990s, you may be using way more water than you need. Upgrade to a low–flow toilet that uses one nearly one–third of the water that older toilets use per flush.
Bathtubs and Showers: We offer bathroom remodeling services, so we can install the new shower or bathtub you have always wanted. Get started on the bathroom of your dreams by calling us today!
Fast Bathroom Plumbers Sarasota
Whether you are dealing with a leaky faucet, clogged drain, or running toilet, we will send out a local plumber as soon as possible to restore your Sarasota bathroom plumbing so that you can go on with your daily routine. We show up on time with the right tools for the job and the necessary skills and experience to tackle any leak or clog.
All of our plumbers are highly trained, including certified master plumbers. This means you have some of the best plumbers around in your Sarasota bathroom no matter how small the service may be. Contact Wimpy's Plumbing & Air today to get professional bathroom plumbing repair, maintenance, installation, or replacement in Sarasota, FL, or the surrounding areas. See why our customers love their trusted plumber in Sarasota!
Bathroom Remodels Sarasota
We are your Sarasota bathroom remodel experts. Our plumbers will put together the bathroom you want, no matter how state-of-the-art or modern. We have done everything from simple bathroom changes to designing completely remodeled spaces that needed repiping, new fixtures, and everything in-between. We'll work with you to make sure that your bathroom is everything you need and want it to be.
If you're not sure what you need, we will be happy to make suggestions. We know how bathrooms are being done in new homes, so we can make suggestions to bring your current room up to date. We'll even suggest toilets, tubs, and fixtures if you aren't sure what you're looking for. We'll consider your price range, your style, and your needs, and then let you know what we think will work best for you to execture the perfect, balanced bathroom remodel in Sarasota!.
We'll always give you as many choices as we can, and we'll honor whatever decision you make when it comes to your bathroom remodel in Sarasota. We'll tell you what we would do in our own homes, and then we'll leave you to decide what is best for you and your family. You can trust us to do some of the best bathroom remodel work around, even if you don't make the decision that we would have made.