Water Heater Repair Sarasota, FL
Out of hot water or having issues with your hot water heater in Sarasota, FL? Are you tired of searching for "water heater repair near me" and not getting the help you need? If you answered "yes" to either of these questions, simply place a call to the Sarasota plumbers at Wimpy's Plumbing & Air.
Our Sarasota water heater service experts will get to you quickly and solve whatever problem you've been having, whether you have a tankless water heater or a tanked one. Reach out whenever you need assistance!
Why choose Wimpy's for your Sarasota area Plumbing needs?
Our employees are fully-trained & licensed technicians so you can trust we get the job done right.
We'll show up on time and work hard to get you the very best solution to your problem.
We've been trusted in the community for 50 years!
How Can We Help?
Call us today for all your Plumbing needs!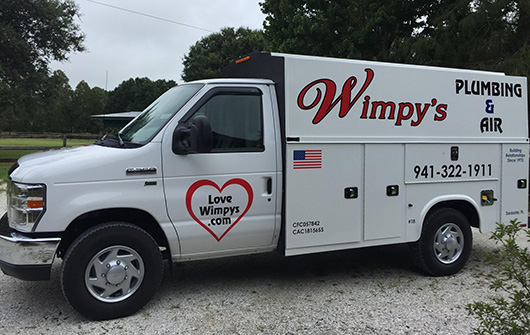 Signs You Need Water Heater Repair in Sarasota, FL
Many people let water heater issues go because they don't realize how serious they can or don't believe they are big enough to warrant calling in a water heater expert. However, calling Wimpy's whenever you suspect you need water heater repair in Sarasota, FL can save you money and extend the life of your hot water tank. Here's when you should call us:
When your hot water won't get as hot as it used to or as hot as you want it to
When you run out of hot water faster than you used to, or think you should
When your water heater is leaking
When your water heater makes loud or unusual noise.
When your water heater produces rusty water
Expert Water Heater Technicians
When you place a call to our team for water heater repair in Sarasota, FL, we'll find a time that works for you and then we'll send out an expert in Sarasota plumbing. We'll inspect your water heater, determine what's wrong with it and then let you know how we can help you get it running again. As soon as you agree to let us do the water heater repair, we'll get to work so you can have hot water again soon!
Sarasota's Water Heater Repair Pros
When your hot water heater seems "off", skip the "water heater repair near me" search and give us a call at Wimpy's Plumbing & Air. We'll assess it and then complete any required water heater repair in Sarasota quickly and efficiently. If we think that you'd be better off replacing your water heater, we'll let you know the pros and cons and we can help you choose a new one. Before long, your hot water in Sarasota will be running normally again!