Water Heater Installation Sarasota, FL
Whenever you need water heater installation in Sarasota, FL the expert plumbers at Wimpy's will get the job done ASAP.
First, we'll arrive on time and assess your hot water situation. Then, we'll look at a few factors to decide which water heaters would work best for you, which could be a gas, electric, tankless or tanked water heater. Finally, we'll order your new appliance and take care of the water heater installation process. Before long, you'll have a better hot water system than you've had before!
Why choose Wimpy's for your Sarasota area Plumbing needs?
Our employees are fully-trained & licensed technicians so you can trust we get the job done right.
We'll show up on time and work hard to get you the very best solution to your problem.
We've been trusted in the community for 50 years!
How Can We Help?
Call us today for all your Plumbing needs!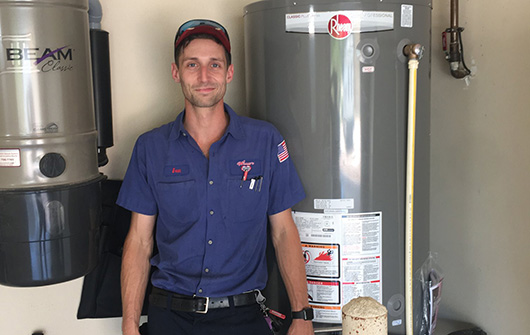 Our Process for Water Heater Installation in Sarasota, FL
Our plumbers will help achieve your new water heater installation in Sarasota. We'll discuss the following items with you, then recommend water heaters made by manufacturers we trust. We'll never ask you to buy a water heater we wouldn't be happy putting in our own houses! We'll talk about:
The type of water heater to install. If you have a gas or electric heater and you're satisfied with it, then we can help you find one that fits your system. However, you may want to change power types or get a tankless water heater installed in Sarasota instead. We'll talk through the pros and cons of these moves with you, then help you get a heater that matches your needs.

The size of your house. In general, bigger homes require bigger water heaters. However, this isn't always true. Home size is not the only factor we'll consider.

The number of people living in your home. More people living in a home often means that a larger water heater will better serve your needs.

Your energy-saving preferences. Water heaters designed to save energy cost more to buy, but you may get those costs back in energy saving.

Your hot water usage. Beyond anything else, this factor determines which water heaters are best for you. We'll talk to you about how much hot water you use and when you need to use it, then get you a water heater that meets your needs.

Ready for a Water Heater Installation in Sarasota?
The team of Sarasota plumbing experts at Wimpy's can let you know if it's time for water heater replacement at your Sarasota home or business. Let us come out and take a look at your current one to see if it is old, leaking, or problematic, and is a good contender for replacement. We are here to help whenever you think it's time!
Friendly Staff
Our schedulers are friendly and knowledgeable. They'll get you a convenient appointment with an expert who will arrive on time and make sure we understand your needs and set you at ease.
If you're looking for new water heater installation in Sarasota, FL, call Wimpy's Plumbing & Air ASAP. We'll get to you soon and give you all the information you need to choose the best new water heater for your home. Whether you need tanked or tankless water heater installation, you'll always get top quality service from Wimpy's!
Sarasota Water Heater Services
Our technicians will assess your water heater and let you know if it's time for replacement or water heater installation in Sarasota. We can happily offer recommendations on brands and top of the line models.