Sewer Cleaning & Hydro Jetting Sarasota
It is important for property owners to pay attention to the state of their sewer system to see if it ever needs servicing. If you have a sewer clog, or suspect there's something going on within your sewer line, and need to hire professional sewer cleaning in Sarasota, the staff at Wimpy's Plumbing & Air can help.
For many years now, property owners have relied on our family-owned and operated plumbing company for sewer cleaning services in Sarasota, so you can feel confident when you place your trust in us. Give us a call whenever you need help getting your sewer serviced or cleaned!
Why choose Wimpy's for your Sarasota area Drain & Sewer needs?
Our employees are fully-trained & licensed technicians so you can trust we get the job done right.
We'll show up on time and work hard to get you the very best solution to your problem.
We've been trusted in the community for 50 years!
How Can We Help?
Call us today for all your Drain & Sewer needs!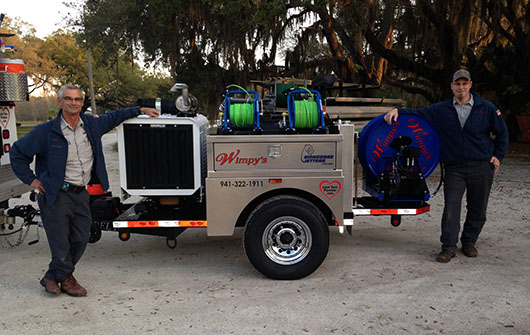 Just like how you need to have your drains cleaned out every now and then, Sarasota sewer line cleaning should be done periodically (about every 4 to 5 years, or more if the piping is old) to make sure there are no problems within your plumbing. Having it done as a preventative measure will ensure that no surprise issues come up.
But if there is a problem going on, call us for sewer cleaning service right away. Our staff in Sarasota is available to help get things squared away so that your plumbing can be fixed and everything can go back to normal.
Sewer cleaning
Sewer inspections
Sewer line replacement
Sewer repairs
Sarasota's Clog Experts
Give us a call whenever you need to have your sewer serviced and cleared out. We use camera equipment to locate the trouble in the sewer line and then follow up with powerful hydro–jetting equipment, that will power wash the pipeline and leave it like new. Get in touch with our team today to arrange for sewer line cleaning, and we'll take care of everything for you.
Hydro Jetting Sarasota
One method that we use for sewer cleaning is hydro jetting. Hydro jetting in Sarasota involves sending an extremely concentrated stream of water through your sewer line. It's so powerful that it can break up tree roots and other solid clogs. It can also clean off your sewer line so it looks like new when we're done. Hydro jetting in Sarasota is minimally invasive and allows us to get in, get things cleaned, and get out without taking up too much of your time.
Interested in learning more about hydro jetting in Sarasota? Check out these blogs.
Sarasota Sewer Services
Our technicians will assess your sewer system and troubleshoot issues until they're sure about what you need to have fixed. Then they'll recommend the repairs and get started as soon as you approve.
Whenever it's time to have the sewer system cleaned out at your property, call on one of the trusted names in plumbing in the Sarasota area: Wimpy's Plumbing & Air. We have been in business for more than 40 years and are continuing a tradition of three generations of master plumbers in the family. We will come to your place and use the best equipment to clean your sewer line with trusted methods like hydro jetting in Sarasota, so you can go right back to not worrying about it once more. Call now to make an appointment!