Is Hydro Jetting Safe?
Have you heard of hydro jetting in Sarasota but you're not sure that it will work for your property? Has someone actually suggested hydro jetting to you but didn't explain what that meant? If you find yourself wondering what hydro jetting is and if it is right for you, then you've come to the right place!
How Does Hydro Jetting Work?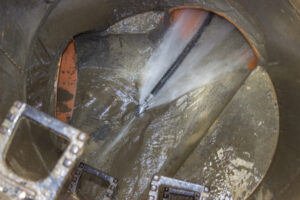 Hydro jetting is also known as "high-pressure jet cleaning," which is a much more apt description of the process. When we hydro jet, we aim a highly-concentrated stream of water into a pipe. We can control the concentration of the water and where it gets aimed. Hydro jetting works as a drain cleaning method to remove nearly all types of clogs, as well as to clean out drains. If we use hydro jetting in Sarasota, FL on your pipes, they will look like they are brand new when we're done!
Is Hydro Jetting Safe?
Hydro jetting is safe for your pipes. It has been tested on all the major types of piping to make sure that it won't harm them. If you suspect leaks or holes in your pipes, get a camera inspection before you choose high-pressure jet cleaning. This will make sure that the pipe is not already damaged. If holes or cracks exist, you may want to choose another cleanout method now, though you will need to fix those problems soon!
When Do We Use Hydro Jetting in Sarasota?
There are several situations your expert plumber in Sarasota may prefer hydro jetting to get the job done.
Kitchen Pipes
If you have a kitchen clog that is almost certainly made up of grease, then you need drain cleaning in Florida. Hydro jetting may be the best way to get rid of all the gunk and the most stubborn clogs from your kitchen plumbing in Sarasota. Since it will also clean off your pipes, it will help you avoid more clogs in the future.
Sewer Lines
Hydro jetting in Sarasota allows us to clean out your sewer line without having to dig up your yard. It can remove all of the most common types of sewer line clogs, including scale buildup and invasive tree roots.
Cleaning Outdoor Drains
Outdoor drains have to handle a lot more than indoor drains, like stormwater and runoff, all of which can carry dirt and other debris into the drain. Some plumbing snakes require electricity, so no one really wants to stick one down an outside drain. Sarasota hydro jetting can be the most effective method to clean for drain cleaning in Florida.
Call for Hydro Jetting in Sarasota, FL
Call us at Wimpy's Plumbing & Air if you need hydro jetting in Sarasota, FL. We'll help you clean your drains or provide other sewer cleaning services in Sarasota out fast!