Heat Pump Water Heater Service
When it comes to heating water for use throughout one's home, we all want to do so effectively and reliably. There's nothing worse than being halfway through a nice, hot shower, only to run out of comfortably-heated water in the middle of it. There is another concern to keep in mind when heating water though, and that is the efficiency with which we do so.
Wimpy's Plumbing & Air provides heat pump water heater services near Sarasota, FL, and the surrounding areas.
Why choose Wimpy's for your Sarasota area Plumbing needs?
Our employees are fully-trained & licensed technicians so you can trust we get the job done right.
We'll show up on time and work hard to get you the very best solution to your problem.
We've been trusted in the community for 50 years!
How Can We Help?
Call us today for all your Plumbing needs!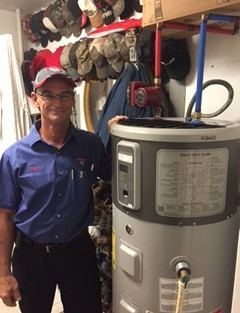 What Is A Heat Pump Water Heater?
A heat pump water heater may be mistaken for a traditional tank water heater upon first glance. However, its utilization of heat pump technology really sets it apart from the competition. Unlike a tank water heater, which may use electric resistance heating or the combustion of a fuel, such as natural gas or propane, in order to heat water, a heat pump water heater warms its water supply by utilizing existing heat in the air surrounding it. Only a small amount of electricity is used in order to facilitate this heat transfer process, and our warm weather means that you won't have to worry about icy garage conditions hampering its success.
Similar to a tank water heater
Warms water with hot air
Not much electricity used
Heat Pump Water Heater Installation
Are you interested in having a heat pump water heater installed in your home? If so, then be sure to schedule your heat pump water heater installation with a trained professional plumber. When properly sized and expertly installed, you can count on your heat pump water heater to heat water for use throughout your home both efficiently and effectively. However, subpar installation services can seriously impede its overall operation. Should you find that your old heat pump water heater has broken down, or if it is no longer capable of heating water reliably, then be sure to schedule your heat pump water heater replacement with our staff of expert plumbers.
Other Services
Heat Pump Water Heater Repair
No water heater, heat pump or other, is going to operate with 100% reliability. This is just not the nature of mechanical systems. The moment that you suspect that there is a problem with your heat pump water heater, it serves you to schedule for heat pump water heater repairs. Not doing so will only give those problems the time that they need to worsen.
Heat Pump Water Heater Maintenance
Also, remember that the best way to stave off these repair needs is with routine heat pump water heater maintenance. Contact us today to schedule all of the services that you need to keep your system up and running at peak efficiency and performance levels.
Sarasota's Top Heat Pump Water Heater Service
Your water heater is one of the most heavily-used of all the appliances in your home. If it is not able to perform efficiently, you may just find yourself suffering from sticker shock when the utility bills begin rolling in. If you are serious about getting an efficient performance from your water heater, you may want to consider the use of a heat pump water heater in the Sarasota, FL area. Read on, and contact Wimpy's Plumbing & Air to schedule any water heater services that you may require.