Water Filtration Service in Sarasota
Today, more homeowners have concerns about the quality of the water that comes out of their taps. Water with impurities cannot only causes health issues, but also damages appliances such as water heaters, and may also stain objects in laundry machines and dishwashers. These pollutants are difficult to avoid, since most of them enter the municipal pipes through groundwater seepage. If you have concerns about the quality of your home's water, schedule professional water testing to find out what contaminants are in it.
The water treatment specialists at Wimpy's Plumbing & Air offer services for water filtrations systems in Sarasota, FL, and the surrounding areas.
Why choose Wimpy's for your Sarasota area Water Filtration needs?
Our employees are fully-trained & licensed technicians so you can trust we get the job done right.
We'll show up on time and work hard to get you the very best solution to your problem.
We've been trusted in the community for 50 years!
How Can We Help?
Call us today for all your Water Filtration needs!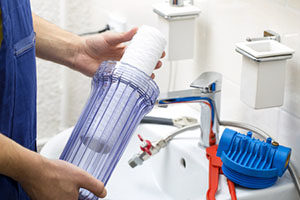 But then what? Are there solutions to these water impurities better than simple filtration pitchers or point-of-use filters? Absolutely! A professionally installed and serviced whole-house water filtration system will take care of the majority of particles in the water entering your home. Wimpy's Plumbing & Air is here to assist you with this.
We offer water testing, and then we can install the ideal whole-home water filter or filters to remove impurities. We also repair, replace, and maintain filtration systems. Call today to arrange an appointment.
Water testing
Water filtration installation
Water filter repairs
Choose A Whole House Water Filtration System
A key step in finding the whole–house filters that will do the job you need is to call in professionals as soon as you think your water has issues with impurities. If the water smells or tastes funny, or it looks cloudy, contact experts right away. After testing the water, our plumbers will be able to identify the right type of filter for your home.
There's no single type of filter that fits all needs. Different filters target different types and sizes of contaminants. For example, a reverse osmosis filter is powerful for extremely small pollutants, but may not be necessary for the issues in your water. A charcoal filter may do the job you need. You can leave most of these decisions to your installer, who will then see that the new system is put in place to the manufacturer's specifications so that it does exactly what it should. You can trust our plumbers to handle this job to your complete satisfaction.
Water FIltration Repairs
Sometimes a filtration system may break. If you detect that your water quality problems have returned, or if water pressure suddenly starts to plunge around your house, you may have a faulty whole–house filter. Don't worry: call us we'll be there to fix the filtration system or replace it as necessary.
Water Filtration Maintenance
Filters suffer from wear over time, and must occasionally receive service to clean them and replace filtration components. There are other parts of the filtration systems that need regular inspections. Just call us whenever you need an extra level of help keeping your whole–house filters working to specifications.