Sewage Experts in Sarasota
Since 1973, Wimpy's Plumbing & Air has proven time and time again that it has what it takes to get any job done right the first time, every time. We do not employ "technicians." Instead, we are staffed with professional, extensively trained sewer experts, many of whom are state-licensed Master Plumbers.
Whether you need a high-quality sewage pump installed on your property or are looking to have repairs done, we are here to guarantee the successful completion of the job. Contact us today to learn more.
Why choose Wimpy's for your Sarasota area Drain & Sewer needs?
Our employees are fully-trained & licensed technicians so you can trust we get the job done right.
We'll show up on time and work hard to get you the very best solution to your problem.
We've been trusted in the community for 50 years!
How Can We Help?
Call us today for all your Drain & Sewer needs!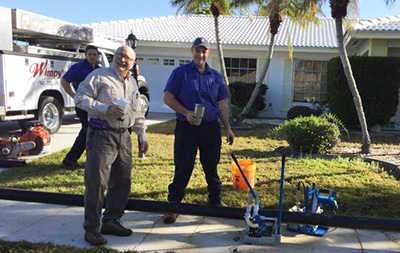 A sewage pump is a type of pump that, not unlike a sump pump, serves one specific purpose. Rather than pumping floodwater out of your home's lower levels, though, a sewage pump is used in order to move effluent through a sewer system. Generally, the sewage pump will be installed in a sewer basin, excavated at the lowest point of the drainage area.
Submersible pumps are installed in the bottom of the basin or sewage tank, and the intake is placed at the bottom of the basin, so that as much waste and wastewater as possible can be removed. It is vital that an appropriately sized pump is used, so that the system can handle the amount of sewage that will require transport.
Sewage pump repairs
Sewage pump replacements
Sewage pump maintenance
Sewage Pump Services
If you do encounter problems with your sewage pump, we strongly recommend that you take the pump out of commission until we have completed the necessary repairs. Running a damaged sewage pump only increases the likelihood of serious damages developing. Should sewage pump replacement be needed at any point, a dependable Sarasota plumber can handle that as well. Give us a call with any questions that you may have.
Sewage Pump Installation
While it is highly unlikely that any homeowner will have a burning desire to get his or her hands dirty and install a sewage pump on his or her own, we must make a point of saying that this is a job that only a professional plumber can handle. Our team will determine precisely what size of sewage pump that you need, and we'll install it properly so that you won't have to worry about it failing to perform as intended. For obvious reasons, you really need to know that your sewage pump is going to do its job.
Sewage Pump Repairs
Sewage pumps are straightforward devices, and they do not require much in the way of maintenance. It is important that proper oil levels are maintained and that bearings and motors are in good shape, but overall a sewage pump will operate quite a while without issue. We are happy to inspect your sewage pump on a routine basis to ensure its proper operation.