Hot Water Recirculator Service
After you open a hot water tap in your home, you typically have to wait several seconds before the water is the temperature you would like it to be. The amount of time you have to wait can be a little frustrating, but the amount of water you waste is significant. At Wimpy's Plumbing & Air, we want to help you avoid water waste and get hot water right when you need it with a Grundfos hot water recirculating system.
Wimpy's Plumbing & Air provides hot water recirculating systems in Sarasota, FL, and the surrounding areas. Call us today!
Why choose Wimpy's for your Sarasota area Plumbing needs?
Our employees are fully-trained & licensed technicians so you can trust we get the job done right.
We'll show up on time and work hard to get you the very best solution to your problem.
We've been trusted in the community for 50 years!
How Can We Help?
Call us today for all your Plumbing needs!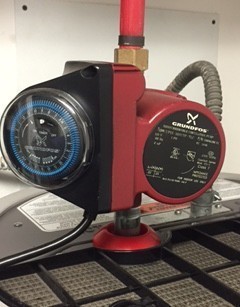 We believe that any homeowner with a conventional storage tank water heater can benefit from installing a hot water recirculating system. Even turning on the sink to wash your hands, wastes time and money as you wait for the water to heat up. And waiting for a shower to warm up is more than frustrating after a long and stressful day.
Any person would rather the water reach the faucet instantly. And a hot water recirculating system achieves just that. You'll get instant satisfaction and you won't have to worry about wasting water or wasting any more time than you need to when all you want is hot water.
Prevents wasting water
Gets you hot water instantly
Saves money over time on water bills
Hot Water Recirculating Experts
Our water heater service experts are happy to answer any questions you may have about this state-of-the-art device. A hot water recirculation device prevents you from wasting any water, and it allows you to get the hot water you want instantaneously. Call Wimpy's Plumbing & Air today to schedule an installation or with any questions you may have, or make an appointment for repairs, replacement, or maintenance services.
Grundfo's Hot Water Recirculating System
We specialize in Grundfos hot water recirculating systems, which run throughout the day to ensure that your pipes never cool down. They simply pump the water from the hot water system to the furthest away fixture so that hot water is always available exactly when you need it. This system is affordable for many homeowners, and it may provide you with comfort and convenience throughout your homeownership.
One of the main benefits of Grundfos hot water recirculating systems is that they do not require a dedicated recirculation line. That makes installation a lot easier for your plumber, and it's easier on your budget. Instead, hot water is continuously pumped through pipes forming a continuous, slow loop of hot water.
Sarasota's Trusted Plumbing Company
Our schedulers are friendly and knowledgeable. They'll get you a convenient appointment with an expert who will arrive on time and make sure we understand your needs to set you at ease.
Contact our team today for more information, or to schedule installation, repair, replacement, or maintenance services. Wimpy's Plumbing & Air installs and services Grundfos hot water recirculating systems to residents of Sarasota and the nearby cities. When you work with us, you'll love your plumber!