Plumbing Installations Sarasota
When it's time for plumbing installation in Sarasota, FL, the experts from Wimpy's Plumbing & Air will get the job done fast. We'll always make sure you're satisfied, too, or we'll keep working until you are.
Our Sarasota plumbers come to us highly skilled at plumbing installation, then we invest in developing those skills even more. When you call in a Wimpy's plumber, you're calling someone who cares about your home and who wants to make your life better.
Why choose Wimpy's for your Sarasota area Plumbing needs?
Our employees are fully-trained & licensed technicians so you can trust we get the job done right.
We'll show up on time and work hard to get you the very best solution to your problem.
We've been trusted in the community for 50 years!
How Can We Help?
Call us today for all your Plumbing needs!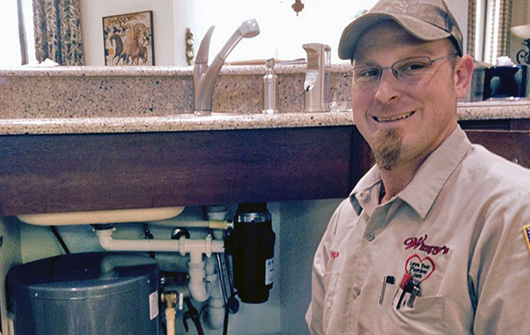 We'll take on any of your plumbing installations in Sarasota, from the big jobs to the little ones. Whether you're installing a whole new bathroom or a new kitchen faucet, we'll make sure you get the right pieces and that they are installed properly, to ensure your long-term satisfaction and that your new pieces will last for a long, long time.
We handle all Sarasota plumbing installations, including:
Sinks
Bathtubs
Toilets
New Pipes & Sewer Lines
Drains
Well systems
And more!
Sarasota Plumbers
If you're not sure if we can take on your job, call us anyway! We guarantee that we will do whatever we can to help you out wiht your plumbing installations and aid you in turning your current home into your dream house. 
When you call us for plumbing installation in Sarasota, FL, we want to make sure the job gets done right. To us, that includes leaving you a completely satisfied customer. We'll do everything we can, from the first moment of contact to the moment we leave, to make sure that happens.
Friendly Staff
Our schedulers are friendly and knowledgeable. They'll get you a convenient appointment with a plumber who is an expert in whatever you need to have done. Then your plumber will arrive on time, because we know that you can't sit there and wait around all day. Once there, we will make sure that we understand your needs and set you at ease.
We have spent years investing in this business and we will never recommend something that we wouldn't be perfectly happy putting into our own homes. Choose your plumbing installation piece and we'll do the rest. We'll get it ordered and oversee delivery, then install it properly.
We test every installation before we leave and we invite you to test it, too. If you're not completely satisfied, we'll work with you to make changes until you are. When you need help with plumbing installation in Sarasota, Wimpy's Plumbing & Air will be there to help you out. Make your appointment today!
Various Services
Our plumbers will assess your plumbing system and troubleshoot issues until they're sure about what you need to have installed. Then they'll recommend appliances or fixtures that come from manufacturers we trust. They can also answer any questions you might have about your plumbing or new appliances or fixtures.