Sarasota Garbage Disposal Services
Think about how much time it would take to clean up in the kitchen without a working garbage disposal. You would have to make more frequent trips to take out the garbage. Every crumb that fell down the drain could put you at risk for a major drain clog. And you wouldn't have the convenience of scraping your plate into the sink as you rinse.
If it's time for a new garbage disposal or you need garbage disposal repair in Sarasota, FL or the surrounding area, call us at Wimpy's Plumbing & Air. We'll send an experienced plumber with expertise in garbage disposals to get yours running again soon or to help you get a new one that will fulfill all your garbage disposal needs.
Why choose Wimpy's for your Sarasota area Plumbing needs?
Our employees are fully-trained & licensed technicians so you can trust we get the job done right.
We'll show up on time and work hard to get you the very best solution to your problem.
We've been trusted in the community for 50 years!
How Can We Help?
Call us today for all your Plumbing needs!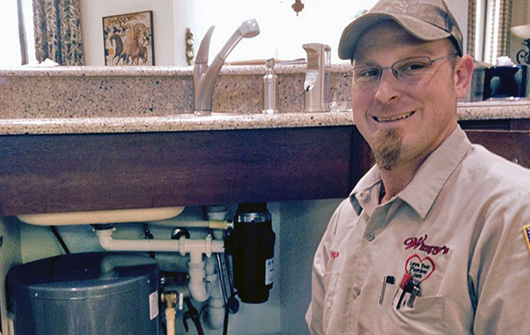 Garbage Disposal Repair
If your garbage disposal isn't working, call us for garbage disposal repair in Sarasota right away. Don't let the problem go because it can create clogs in your drain and give your house a nasty odor. Instead, deal with the issue right away by calling Wimpy's and we'll have it fixed before you know it!
Not sure if you need garbage disposal repair in Sarasota? Here are some common problems that we see encounter and fix:
Your garbage disposal won't turn on
Your garbage disposal makes unusual sounds when you try to use it
Your garbage disposal seems stuck and won't turn
You have an odor coming from your garbage disposal and you're not sure why
Call Wimpy's now if you've been experiencing any of the issues above and we'll be there soon. Before long, we'll have your garbage disposal repaired and back to normal once again!
Garbage Disposal Installation
Since garbage disposals are relatively inexpensive pieces of plumbing equipment, we often recommend new garbage disposal installation in Sarasota rather than paying for a potentially expensive garbage disposal repair. If we think this replacing your garbage disposal may be the best option for you, we'll let you know and still talk you through the pros and cons of each option.
If you decide to replace your garbage disposal, we'll make sure you get a great new one. Our experts will match your needs to a disposal that comes from a reputable manufacturer that we trust. Then we'll install your new disposal and check it before we leave to make sure it'll work well for you for many years!
Why Choose InSinkErator Products?
You may think that all garbage disposals are created equal, but this really isn't the case. If you plan on getting a dependable, reliable performance from the garbage disposal in your home, then we recommend that you consider the use of an InSinkErator product. These disposals are famously simple to install, and they have been helping homeowners to keep their kitchens clean and convenient for over 70 years. It's no wonder that InSinkErator garbage disposals are the best–selling brand worldwide.