Sarasota Hydro-Jetting – 32 Year Old Home Gets Sewer Cleaning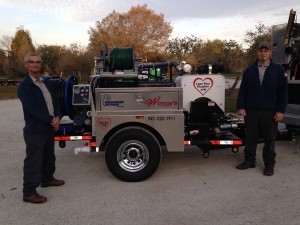 Hydro-jetting old cast iron sewer lines is a very effective way to clean your waste lines.  By having your pipes cleaned, it reduces your  chances of having a stoppage or clogged toilet.  Wimpy's Plumbing & Air in Sarasota, likes to tell its' customers that are having clogged pipes or stoppages, to Jet it and Forget it!
By cleaning old cast iron lines that have rust, scale and sediment built up inside the pipe with a Jetter, you may get many more years of service from your existing waste lines.
A high velocity, water jetter uses gallons per minute and water pressure, along with specialized, rotating cleaning heads to scour, clean and remove all the rust, scale and sediment in your pipes. A hydro-jetter can also cut roots and flush them out of your plumbing system.
Wimpy's, has the latest technology in hydro-jetters, water jetters, and high pressure cleaning equipment. This sewer cleaning, pipe cleaning machine, along with Wimpy's state of the art, sewer camera's, allows us to take care of your plumbing needs in the best possible way in order to save you money.
Jet it and forget it, is a video Wimpy's Plumbing & Air produced, so we can show our customer in Sarasota, the difference between the method of snaking or rodding out a line, versus jetting out a line with a hydro-jetter. This video will show you the results of snaking a line and jetting a line in a 32 year old home in Sarasota, FL.
Click on the Hydro-Jetting / YouTube Link
If you live on one of Sarasota's beautiful Keys, such as Siesta Key, Lido Key or even Longboat Key, Wimpy's Plumbing & Air, will send you a Florida State Certified Master Plumber, who can give you options on the best way to take care of your plumbing problems.  From the moment you call Wimpy's to have your backed up plumbing fixed, to the time we fix it and leave, the whole process will leave your thinking, I Love My Plumber! Schedule your hydro jetting in Sarasota today!