Style, Function, or Both? Tips for Bathroom Remodels in Sarasota
Are your plans for 2023 to finally invest in a bathroom remodel in Sarasota? If you're ready to go, skip this blog and call your Sarasota plumbers to get started with your bathroom remodel today!
First things first. Set a budget for your bathroom remodel. This will determine everything.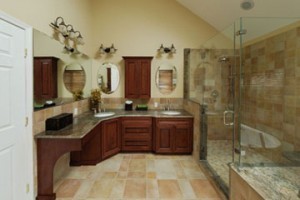 If your house has cast iron piping below the concrete slab, and you are wanting to replace your original toilet, you should consider investing the money into having your main drain looked at with our sewer camera inspection services in Sarasota.
By running the sewer inspection camera, your Sarasota plumber can tell you what the condition of your waste line is and whether or not the new 1.6 gallon flush toilet will flush all the through your sewer line or cause continual stoppages.
You may not want to hear your lines are rusted, corroded and scaled, but it is better to know now, then when you get your bathroom all finished and the toilet stops up all the time.
It is usually more cost effective to do any waste piping under the slab, if needed, before the finished floor and cabinets are installed. And fortunately, Wimpy's offers repiping in Sarasota – so we can take care of it all!
Now you can set a budget with no suprises during your bathroom remodel in Sarasota.
The next part is fun. Go to your local plumbing supply showrooms and see what is available. The sales professional can guide you through all the cool looking stuff from modern, contemporary, rustic, or just plain far-out. The sky is the limit, remember your 30 year old bathroom?  Pick something you like. It may be another 30 years before you go though this again.
When choosing plumbing fixtures and valves, pick quality name brands. This insures that down the road your Sarasota plumber will have the parts on his truck or will have access to them right away, if the product does have a problem down the road.
You should consult with a professional plumber to make sure what you are doing is to code and find out if any permits are necessary.
If you choose to hire Wimpy's for your bathroom remodel in Sarasota, you can rest assured that we have your best interests at heart.
Wimpy's Plumbing & Air would love to consult with you for all your needs surrounding bathroom remodeling in Sarasota. We want you to love your plumber!