Can My Plumber in Sarasota Fix My Faucet that is Hard to Pull On and Off?
If any of your faucets such as your bathroom sink faucet, tub valve, shower valve or kitchen faucet is hard to pull on and off, your Sarasota plumber can tell you what is wrong and explain to you how to fix it.  The most common faucet that is hard to pull on and off is the Moen faucet.  Moen brand is an excellent choice of faucets due to Moens' warranty.  Some of the reasons these faucets become hard to use is non-use of faucet, think of it as exercising your body (use it or lose it), improper installation of not removing the cartridge before soldering it, water quality. Hard water will cause build-up in the integral part of the cartridge and make it stiff or hard to pull on and off.  Also age. Over time mechanical parts need maintenance.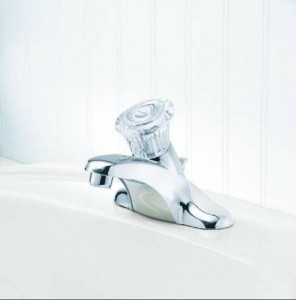 If your faucet is a moen valve, it will have the name on it, or on older moen valves, your plumber in Sarasota will be able to easily identify it for you.
Should your lavatory faucet, tub or shower valve or kitchen faucet be hard to pull on or off, or it drips, the faucet will need to have the cartridge replaced. The first step is to turn off the water. On bathroom sinks and kitchen faucets, the shut-off valves are underneath the fixture. On tubs, there may be an access panel on the back of the wall with the valves inside the access. On showers, unless the valve has integral screwdriver stops or if any off the shut-off valves don't work, you will have to shut off the water where it comes into the house. After making sure the water is off, by opening a faucet and no water comes out, you are ready to remove the cartridge. A tool you will need is called a Moen cartridge puller tool. This tool is available at hardware stores and big box stores. You will also need a new Moen cartridge. Lavatory and kitchen valves have the same cartridge if is 2012 and older. Tub and shower valves use two different cartridges. One is a positemp cartridge, the other is the standard Moen cartridge that has been around for more years than I can remember. You will want the standard moen cartridge. You will have choices of plastic or brass. This plumber in Sarasota, Lakewood Ranch and Bradenton prefers plastic cartridges. You can also call Moen directly and often times, get a warranty cartridge from them, Your plumber in Sarasota can help you with getting a warranty cartridge.
Once you have the water off, cartridge puller in hand and your new cartridge, you can change the cartridge, turn the water back on and check for leaks. If you have any problems, call your Sarasota, Lakewood Ranch, Bradenton plumber.
Need us to repair your faucet? Call Wimpy's Plumbing & Air (941-322-1911) www.wimpys2022content.kinsta.cloud