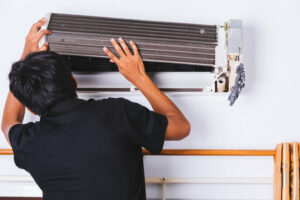 Can You Replace An Air Conditioner Yourself?
We know just how hot the summers can get around here and we would love to help you stay cool this summer. If you've been thinking about getting a new air conditioner, this is the perfect season to make that purchase. But don't try to install it yourself, as that is a job that is best left up to the experts.
Why AC Replacement is Not DIY
Putting in a new air conditioning unit is a very technical process. That's why there are HVAC technicians who dedicate their careers to learning this trade who you can hire to do a premium job. When you have the pros at Wimpy's Plumbing & Air handle your AC replacement, you don't have to worry about if its done right or if any wiring got messed up.
Signs You Need A New AC Unit
If you're not sure that the time is right for you, here are some things to think about when considering a new AC.
How much does your AC cost to maintain? If your air conditioner needs repairs every month or so, even if they are small ones, it may be time to replace it. It could save you in the long run!
How old is your AC? Units older than 10-15 years probably cost more to run than newer ones, and they are also more likely to die on you. Older units also used outdated coolant that you can't replace to make them cool more efficiently.
Can you stay cool at home? If you remember being hot last summer no matter how far you cranked down the AC, you may need a new unit to stay comfortable this year.
Our expert technicians from Wimpy's Plumbing & Air would love to help you choose your new air conditioner. They will also order it, make sure it gets delivered properly, and install your AC according to the manufacturer's instructions. That way, you can be sure the job was done well. We can also talk to you about whether a new AC is the right choice for you this summer.