Cheap, Handyman Plumber, Is Not A Wise Choice
Cheap, Handyman Plumber, is not a wise choice, when it comes to repairing plumbing in your home.  As a professional Florida State Certified Plumbing Contractor, Wimpy's Plumbing & Air comes across a lot of repairs done by a handy man who professes to be a Plumber.  Many times our Sarasota Plumbing Company is called out to re-do something done by a handyman plumber.  Sometimes what the handyman has done, caused a flood in the house or ruined a cabinet.  More serious is when we find plumbing lines not vented properly, which cause sewer gas to come into your home or your toilets not to flush.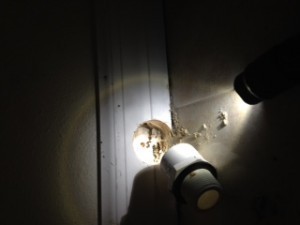 Cheap Handyman Plumber, is not a wise choice, if something does go wrong. Check out the pictures of what we found recently. One of the pictures shows the drain on the safety drain pan of a water heater. The handyman put in this water heater. He knew he needed a pan, but he only drilled though the base board, for the pan drain. When he came to a block wall, he must not of had the proper tools to drill though the block wall, so he just stuck the drain fitting in the baseboard to make it look like he ran the drain to the outside. Well, needless to say, this water heater leaked with-in two weeks of being installed, due to a defective tank which can happen and did. This leaking water heater choose to leak when no one was home and flooded the house. If the drain was run to the outside, there would of been no flood damage. Instead, the cost to not only replace the water heater, but install a pan drain properly and to code, and to re-mediate the damage, was not as good of a bargain as the customer got on the initial installation of the water heater, by the handyman plumber. Oops.
The second picture shows a safety liner pan in a shower. A handyman plumber did not tear out the original pan that had leaked due to the corners being cut out. Instead he choose to put a marble slab on top of the old leaking pan and tile back. This leaked also. Then much to our amazement, the handyman plumber, put another pan on top of all this and still had not changed the shower drain. then he proceeded to cut the corners of the pan out again and re-tiled the shower. It leaked again.
The customer finally had enough of the cheap, handyman plumber and called one of Sarasota's finest Plumbing Companies, Wimpy's Plumbing & Air, to solve their problem. Whether you live in Sarasota, Bradenton, or one of the surrounding beautiful Keys we have here, rest assured, we are not a handyman plumber. Wimpy's is fully licensed and insured. Our staff of Florida State Certified Licensed Master Plumbers will always do your job right.
When we get done with your plumbing repair, we want you to be able to say, I Love My Plumber! Call Lori at Wimpy's, to schedule your plumbing repair when you need it. You will be glad you did. 941-322-1911. Or you may schedule on line at www.loveyourplumber.com.