Cheap Plumber, Cheap Plumbing Is It The Right Choice?
Cheap Plumber, Cheap plumbing, is it the right choice?  Just the other day I was working on a house that was eight years old.  The new owner had just bought a new washing machine, and wanted Wimpy's Plumbing & Air to hook it up, along with a few other repairs.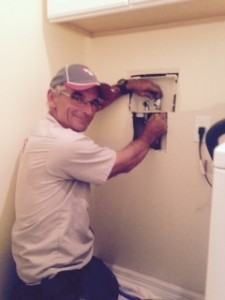 When our Plumber went to turn off the washing machine valves, the stem assembly broke in his hand and water started flooding out from the washing machine valve.
Feeling like the kid with his finger in the hole in the dike, the owner was able to shut -off the main house valve to prevent water damage. What if his main house valve didn't work or he couldn't find it? Do you know where your main house valve is? And does it work? Could your wife or daughter turn it off?
Upon inspection of what actually broke, it was the valve stem assembly that was made, you may of guessed it, in Taiwan.
Now when this house was built and the plumbing was put in, the plumber had a choice to buy a good set of washing machine valves or save a few cents and buy the cheaper ones. There is always a reason the same item costs more. And the difference is usually the material that it is made from.
Cheap ain't good and good ain't cheap, is the motto of a plumber in the Sarasota area.
Why see how cheap you can build something? Why not see how good you can build something instead? Plumbing used to last without even having to think about it. It is the heart of your home. Now, to save a few dollars, builders and plumbers don't even give you a choice of quality.
Not Wimpy's. We will show you and explain the difference in plumbing fixtures and plumbing valves. We want you to be informed. We want your plumbing to last like it did years ago.
Call us if you want a Plumber that cares about quality. Quality doesn't cost, it pays!
Wimpy's Plumbing & Air, a family business serving Sarasota for over forty two years. 941-322-1911, or schedule on line, www.Loveyourplumber.com.