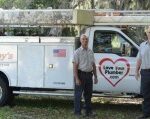 Cheapest Plumber In Sarasota
Cheapest Plumber in Sarasota.  Does this mean you are going to get the quality craftsmanship of a Florida State Certified, Licensed, Master Plumber?  Does it mean that the guy who will show up in his rusty, worn-out pick-up truck, will look at your plumbing problem, and then leave to go to Home Depot to get his plumbing parts?  And when he returns, is he going to take care of your home the way he takes care of his truck?
Cheapest Plumber in Sarasota, these guys exist. But you won't get the quality of service you deserve. In fact you will probably end up paying more for his endless trips to get parts, because he doesn't have a fully stocked Plumbing truck parked in your driveway.
At Wimpy's Plumbing & Air, we believe that everyone wants value for the dollars they spend. No one wants to overpay for anything. They want it done right, they want to know how much it will cost, they want the company to show up when they said, and they want their home to be as clean as it was, when the Plumber leaves. They want to be treated as a person.
These are just some of the things we do when we do in the Sarasota, Bradenton areas, where we repair and service our customers plumbing. Our goal at Wimpy's, is to exceed your expectations!
From the moment you call our office and speak to Lori, our office manager, you will feel at ease. She will dispatch to you, a Florida State Certified, Licensed Master Plumber. We will show up on time in a clean, fully stocked plumbing truck. We will protect your home, let you know your options, and tell you how much it will cost. It's pretty easy to see why our customers ask their friends this; Do You Love Your Plumber? Our website describes how our customers feel, www.Loveyourplumber.com. When people refer us to their friends and family, this is the highest compliment we can get. If you take a moment to read our reviews, you will see why we have been plumbing in the Sarasota/Bradenton area for over 43 years.
Wimpy's, exceeding your expectations of a Plumber! Call us, 941-322-1911 or schedule on line at www.Loveyourplumber.com.