Drain Problem, Wimpy's Found This Clogging the Drain!
Drain problem, Wimpy's found this clogging the drain!  This appears to be about a size 40 ladies green panty that this Sarasota Plumber found clogging the sewer line.  Now I don't care who you are, one has to find that amusing.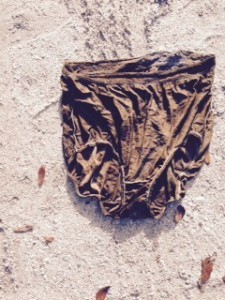 Aided by their sewer camera inspection tools, that Wimpy's Plumbing & Air carries on all their trucks, our Florida State Certified Licensed Master Plumber was able to find the cause of the clogged sewer line that was causing all of the toilets to back up and overflow.  Not only did we find the cause, but we were able to remove it by using the sewer camera.  The toilets in this home, will not stop again due to this pair of panties, rest assured.
This plumbing problem was called in to Wimpy's, from the customer who had just bought this house one month ago. Their toilets overflowed and they called a friend, to ask them for a good, honest plumber that they use. The friend highly recommended, " Wimpy's Plumbing & Air."
Arriving shortly after the customer called, we did find all the toilets stopped up and overflowing.  When we discovered the cause, the new owner said that she didn't even own a pair of green panties!  The things people have to tell their plumber.  One of the reasons why your plumber should feel like family to you.  She informed us that she had just bought the house and did not have the sewer and waste lines inspected.
Do you know what is lurking in your drains? Here is a great common sense plumbing tip; Don't flush things down your toilet that are not organic in nature. Specifically, Size 40, green panties!
If you don't have a plumber in the Sarasota or Bradenton area that feels like family to you, then you should connect with us. We want you to Love Your Plumber. For drain cleaning from Sarasota plumbing experts, call us today!