Honest Plumber, Honest Answers,Wimpy's Tips for Thanksgiving.
Honest Plumber, honest answers. Wimpy's Plumbing & Air Company is the Sarasota Plumber you need to call to get just that.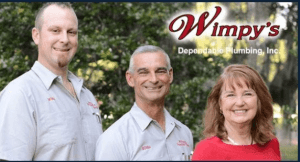 Honest Plumber, honest answers. That's why our customers refer us to their friends and family. They want to tell other people why they Love Their Plumber. In fact, go to www.Love Your Plumber.com and see the video testimonials and written referral letters.
Honest Plumber, honest answers. As a local Sarasota Plumber, we are a family owned smaller company that provides exceptional service. We believe in treating you the way we want to be treated.
When you have a plumbing problem, just call and we will send a Florida, State Certified, Licensed Master Plumber to your door.
He will provide you with honest answers, because we want you to Love Your Plumber! We want to take care of your plumbing needs and we want you to tell a friend how Wimpy's Plumbing & Air did that for you. That's what we have been doing for the last forty one years. Plumbing in the Sarasota/Bradenton area with honest answers from an honest Plumber.
Here are a few tips for the Thanksgiving season that may help you avoid having to call a plumber during the holidays:
1) Stuff the turkey, not your garbage disposal. Put small amount at a time into your disposal.
2) Don't put bones in your garbage disposal.
3) Try to avoid letting grease go down the drain. Wipe the pans out first.
4) Turn on the disposal first, while running water, then dispose of the waste gradually.
5) Compost or put in garbage, the bulk of the waste.
6) If your sink stops up, try plunging one side of the sink while covering the drain on the other side.
7) Call Wimpy's Plumbing & Air if you need professional assistance. 941-322-1911.
From our family to yours, have a safe and family-filled Thanksgiving.