Is Someone Stealing Your Water?
Have you ever come home from vacation and saw your water bill for that month and noticed that it was a lot higher?  Or do you just wonder if the neighbor you aren't on good terms with is washing their car or filling their swimming pool with your water? Check in with your Sarasota plumbers at Wimpy's Plumbing & Air to find out!
To prevent people from stealing your water while you are gone, could just be as simple as turning your water off at the main house shut-off valve. But the thieves could just turn the water on and off and you wouldn't know until the water bill came.
If you do turn off the water to the house while you are gone for a while, you want to make sure the main valve operates properly and easily.  To do so, if the main valve does not look corroded, turn the valve off and drain the system at a hose bib or a faucet inside the house.  If the main valve is working properly, the water will shut off. If it doesn't turn off completely, call a licensed plumber in Sarasota to replace it with a quarter turn ball valve.  This type of valve can easily be turned off by anyone in the household.  Just make sure that everyone knows where it is and how to use it to turn off the water in case of an emergency.  Most of the main house valves are located outside the house.  this makes it very easy for thieves to turn your water on if you are gone.  Have a Sarasota plumber move the valve to the inside of the house if possible, to eliminate the possibility of anyone other than you turning the water on and off.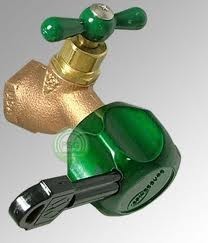 If you need to leave the water on so your caretaker can take care of your animals or plants, another option is to install hose bib locks on all the outside hose bibs.  Hose bib locks are simple locking devices that your plumber in Sarasota can provide or you can purchase online.  They simply screw on the hose thread of the valve.  The most popular style is the magnetic locking hose bib.  Using this device insures that no one can steal your water while you are away, giving you peace of mind.
Wimpy's Plumbing & Air is your full service plumbing company that serves Sarasota, Bradenton, Lakewood Ranch, Osprey, Nokomis, Siesta Key, Longboat Key, Lido Key and the old Miakkia community, including Myakka City.