What to Do about a Leak in the Wall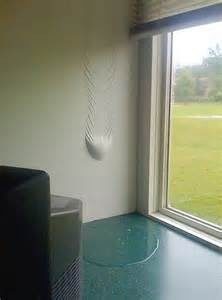 Leak in the wall? You wake up one morning and your floor is wet near a wall.  Oh what a bummer!  What do you do?  How wet is it getting?  One thing you can do is put your ear on the wall.  Do you hear the sound of water hissing?  Is it loud?  If you cannot hear water running, maybe it is a drainage waste arm from a sink.
Leak in the wall, getting the floor wet, may be caused by your air conditioner condensate drain line that could be stopped up.
Estimate from Sarasota Plumber
Before you tear open walls, it would be prudent to call a Sarasota Plumber that gives estimates. A Sarasota Plumber that will come to your home a give you his professional advise, would be better than cutting holes in your walls at random.
Wimpy's Plumbing & Air, is the Sarasota, Bradenton and Lakewood Ranch Plumber that will come to your home for no charge, to give you an estimate of your plumbing problems.
Prevent Water Damage to Your Sarasota-Bradenton Home
You should turn off the water to your house if the water spot gets bigger. This will stop any further damage to your home.
Water damage to your home can be devastating. If something is wet that's not supposed to be or you see water on the floor, call a professional Plumber. He will help you solve your problem with the least amount of damage to your home. If your home has significant water damage, your Sarasota Plumber can recommend a reputable water removal company to extract the water from your home.
Wimpy's Plumbing & Air is your Sarasota Plumber that will give you an honest evaluation of what you need to do, to stop your leak in the wall.
Call today,941-322-1911 or schedule on line at www.Loveyourplumber.com. We want you to love your Plumber!