Pipe outside close to house is leaking
When you get a very high water bill for two months in a row and you have checked your toilets for them running constantly, and they check out fine, you need to go outside and look around.
Perhaps you have a hose connected to a hose bib, that was left on and the hose leaks. Either the hose end is bad or maybe the hose washer fell out. Or it is spraying out around the handle or the hose bib screw on vacuum breaker.
Another possibility, is that someone left the hose running. A way to tell if you are using water is to look at your water meter.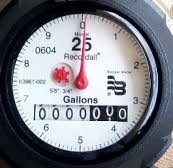 Go out by the street and look for the water meter box. Open the cover of the box. Sometimes there are two water meters in one box. To make sure which one is yours, open the meter dial cover, then go open a faucet or let a hose run . You will see a smaller dial inside the glass cover, called the leak indicator. this leak indicator will turn if any water at all, is being used. Once you have established which meter is yours, make sure everything is turned off inside and outside the house. Then check the meter and watch the leak indicator dial. If it moves, you are losing water somewhere and may need to call a plumber in Sarasota to help you locate the leak.
While you are waiting to see if the leak indicator moves, walk around your yard to check for wet or mushy spots in the yard. This would indicate a leak in the main water line.
If you checked all around, inside and outside the house, you may have a leak under the concrete slab. This would be a good time to call a Sarasota plumber to get their professional opinion.
Need a licensed master plumber to find your leak? Call Wimpy's Plumbing & Air, Inc.. (941) 322-1911. Owner Bubba Butler. Family owned and operated in Sarasota for 40 years. www.LoveYourPlumber.com