Sarasota Plumber, Wimpy's, is THE Plumber in Sarasota!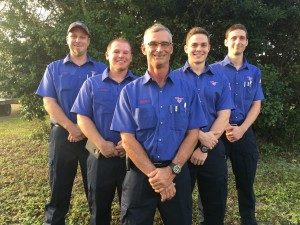 Sarasota Plumber, Wimpy's, is the Plumber in Sarasota!  Customers in the Sarasota and Bradenton areas have depended on Wimpy's Plumbing & Air for over forty three (43) years.  We have been giving estimates with honest professional opinions that our customers have come to rely on.  We will always offer you options on the problems you need fixed, repaired or replaced in your home.
Sarasota Plumber, Wimpy's, is the Plumber in Sarasota! From the initial call and speaking to our office manager, Lori, who is always pleasant and concerned with your particular plumbing problem, to the cleanest, most well stocked, plumbing trucks in Sarasota, that will show up to your home when promised. Down to the honest, clean cut professional who will diagnosis you plumbing problem and give you options on how to proceed. We always look out for your best interest, not ours.
Sarasota Plumber, Wimpy's, is the Plumber in Sarasota! Wimpy's Plumbing & Air is one of the very few Plumbing Companies in Sarasota, that will never leave a mess while fixing your plumbing problem. We always will try to exceed your expectations! We had to name our website, Love Your Plumber.com, after our previous and even new customers would say, "I Love My Plumber".
Wimpy's hydro-jet service, to repairing a faucet, Wimpy's Plumbing & Air can handle all of your Plumbing needs.
Here are just a few of our specialty services we offer:
Hydro-jetting, exclusively using a Mongoose Hydro-Jetter, with the latest development in cleaning heads and nozzles, Sewer videos, Camera waste and vent lines, Pipe bursting or also called Trenchless Technology, featuring "Tric" pipe bursting equipment, Dustless Concrete Cutting using Hilti's Dustless Technology System, Water Conditioning featuring the Halo 5 Water Conditioner, Pex water pipe for repiping houses, various pieces of heavy equipment such as a backhoe for large jobs, a very small mini excavator for small jobs, a track machine Bobcat to keep the site clean and a 20 yard dump truck to haul away whatever it may be, to keep the work area clean.
You will find Wimpy's Plumbing & Air to be the cleanest Plumber you have ever seen. We can do it ALL. Our Team is standing by, ready to tackle your next Plumbing job.
Just click, www.Loveyourplumber.com or call 941-322-1911 to schedule. We offer 24/7 service and estimates.