Sewer Blockages & Sewer Cleaning in Sarasota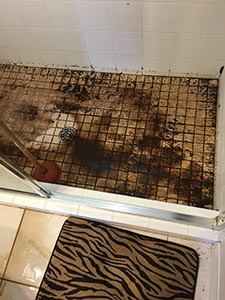 Did you wake up to a beautiful fall morning and find your shower full of black, ugly looking water? Did you flush your toilet only to see it didn't flush? If your toilet is stopped up and your shower is backing up also, you have a clog that needs professional sewer cleaning in Sarasota.
Somewhere in your main line there is something causing a sewer blockage. Plumbers in Sarasota, Florida, call it a stoppage.
If you have a home built before the 1980's, in Sarasota or Bradenton, your plumber can be sure that you have a cast iron drainage system under the floors of your home. Cast iron piping causes a lot of drain lines to stop up. The reason, is that over time, cast iron pipe deteriorates, by rusting out (learn more about cast iron corrosion in this great blog from your Sarasota plumbing company!). This leaves behind rust, scale, sediment and ledging in the pipe that will catch paper causing the sewer line to stop up. As the cast iron pipe gets choked off by all this rusting and ledging, it slowly reduces the inside diameter of the sewer line. So instead of being 4″ in diameter as most residential waste lines are, it sometimes gets closed off completely. This causes your clogged drain that now requires sewer cleaning in Sarasota.
Cast iron piping will generally last 40-50 years before causing clogged drains. Professional and reputable plumbers in Sarasota, such as Wimpy's Plumbing & Air have sewer cameras on all of their plumbing trucks to aid in locating and finding the cause of your clogged drain. With sewer pipe inspection in Sarasota they can see with their sewer camera exactly what is causing the problem and where it is. This enables them to give you the best option to fix your drain problem so you can flush with peace of mind.
When your cast iron drain lines start stopping up on you and causing your toilets to back up, there are several ways to get a permanent solution. Just cabling out, or as some plumbers in Sarasota call it, rodding out your drain, will only last a short time.
Wimpy's has all of the proper tools and equipment, such as hydrojetters, Picote High Speed Milling Machines and Permaliner cured in place piping, also known as CIPP.
If you have original Terrazzo floors or freshly laid, wood or marble floors that you don't want to disturb, we can rehabilitate your pipes without disturbing your floors.
Learn more about saving Terrazzo floors with trenchless sewer services here!
With that being said, there is no substitute for all new pipe. However, all new pipe involves more time and cutting up your floors. Plus the cost to repour concrete, lay new flooring and possibly installing new cabinets.
Rest assured, the plumbers at Wimpy's can offer you the best solution, based on your needs and budget. Our highly skilled Sarasota plumbers will always treat your home with great respect.