Stoppage in Lakewood Ranch. Plumbing Today, Who should I call?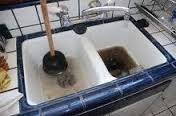 Stoppage in your plumbing? House plumbing that is, not your body.  Even though your Lakewood Ranch Plumber  may need to know as much information about you as your Lakewood Ranch  Doctor.
If your plumbing is backed up, there is always a reason. Like an insurance agent once told me, accidents don't happen, they are caused. Same with plumbing problems. If you have a stoppage, it was caused by something. A plumbing professional will tell you what the cause of your stoppage is and give you options on how to take care of it, so it doesn't happen again.
Who wants to have the same problem over and over again? I know I don't, especially if there is a way to prevent it from happening again.
Plumbers' today, have the same technology that doctors have to look inside your body. We can actually see what is going on with your pipes and what caused your plumbing stoppage. Seeing is believing! If you know what the exact cause of the plumbing problem is, then you exactly how to take care of it.
Love Your Plumber.com is the place to go for a Plumber today. Wimpy's Plumbing & Air has been serving the Sarasota/Bradenton area for over 41 years. We are are local, family Plumbing business that you can depend on for plumbing today. We want you to love your plumber! We will always strive to do what is in your best interest.
If you have a stoppage, we have the high tech, proper equipment to clear, clean and/or replace your problem pipes. If you need to have concrete cut inside your home, we have the very best, Dustless Concrete cutting system available.
Some plumbers can be real messy and dirty. Not Wimpy's. We are one of the elite, few plumbers that take pride in themselves on how clean we can be, while plumbing in your home.
Stoppage? Call Wimpy's today. 941-322-1911 or schedule on line at www.Loveyourplumber.com