Water Heater Sizing & Pricing Is Changing Dramatically, By April 2015.
Water heater sizing and pricing is going to change dramatically in April of 2015.  Due to the government agency, The Department of Energy (DOE), new energy efficiency standards will have to be met on all water heaters.  This is going to create challenges in an existing home or condominium.  The footprint, (diameter) and the height of water heater manufactured after April 2015 is going to increase.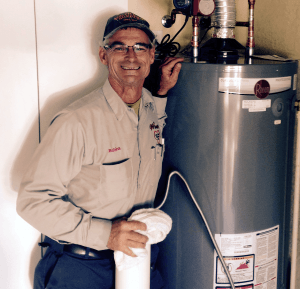 So, who is affected by this? Plumbers, heating and HVAC contractors, designers, engineers and most of all, You! If the new size water heater does not fit in the space where your old heater is, you will be forced to either down size or re-locate the water heater.
Now is the time to talk to your Plumbing Professional to find out all of your options on which water heater to choose. Your Plumber will be the most knowledgeable to help you choose which one is best for you.
The manufacturers have to increase the energy rating to comply with the DOE. They will do this in electric water heaters by adding more insulation, which will make the unit larger and possibly not fitting in the spot where your water heater is presently located.
If your water heater is over 55 gallons and is electric, the government will make you put in an electric heat pump water heater. This will save on operating costs, however the initial investment is going to be a lot more.
While all water heater models will see an increase in the EF requirement, the larger capacity, 55 gallon and up will have the most dramatic change. The only technology that meets the energy efficiency for electric heaters over 55 gallon are electric heat pump water heaters.
As of this writing, all the old stock of water heaters are pretty much gone, because the manufacturers are re-tooling for the new larger models. So when your plumber tells you that he can't get your common 30, 40 or 50 gallon water heater from any manufacturer, believe him.
Just call, Wimpy's Plumbing & Air at 941-322-1911, we will be happy to answer your questions or schedule an appointment on line, at www.Loveyourplumber.com. We have been serving the Sarasota, Bradenton area for 42 years!