What Is Wimpy's? Dependable, Honest, Family Plumbing Business in Sarasota.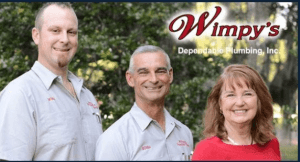 What is Wimpy's?  We are a dependable, honest, family owned Plumbing business in Sarasota, that cares about your plumbing needs.  Sarasota and Bradenton folks, have seen Wimpys around their neighborhood for the past 42 years.
Wimpy's is the most professional Plumbing company in Sarasota. We arrive on time, with clean fully, stocked service trucks. We do this so we can take care of your plumbing problems on the spot. Our men are all Florida State Certified Licensed Master Plumbers.
Wimpy's will provide the customer with free evaluations on their plumbing, along with different options they may have. There is more than one way to do things, but rest assured, Wimpy's will only do it the right way.
If you take a moment to read our reviews that come straight from our customers, you can know that we will strive to make you that happy. Our .com is www.Loveyourplumber.com. We want you to tell your friends about the pleasant experience you had with your plumber. We want you to Love Your Plumber! We want to exceed your expectations!
On Thursdays, Wimpy's offers thrifty Thursday. Check out our web site for the savings you can get if you book your job on a Thursday.
Wimpy's has been plumbing in Sarasota and Bradenton since 1973. We know that character is easier kept, than recovered. We will always be honest with you. We will explain why and how we will repair your plumbing issues. So the next time you need a plumber, remember that you should call Wimpy's, to get a dependable, honest and clean plumber.
No gimmicks, just the truth. Call 941-322-1911 or schedule online, www.Loveyourplumber.com.
Wimpy's is here for You.