When My Kitchen Drains, It Comes Up In My Laundry Tub.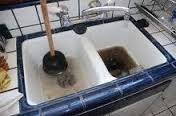 When your kitchen drains and comes up in your laundry tub, this is a sign of a stoppage in your plumbing system. These things happen sometimes if you overload your garbage disposal.  Too much at one time going down an old corroded cast iron line can cause the kitchen drain to  come up in the laundry tub.  If this happens, you will more than likely need the help of a plumbing professional.
A plumber will need to snake-out the drain. The professional plumber will know exactly how to clear the stoppage. He will also be able to tell you if your disposal if working correctly. Garbage disposals should grind the food waste into a slurry, so as not to create a clogged drain as it discharges into your plumbing system.
Here are a few tips on using a garbage disposal:
Always turn the water on first, using cold water, then turn on the garbage disposal, then add the food waste. Let the disposal run until all the waste is gone. Then let the water run just a little longer. This will help prevent clogged kitchen drains.
If you have old pipes and clogged drains, you need to call Wimpy's Plumbing & Air in Sarasota. We will take care of your problem and explain ways to prevent this from happening again.
Perhaps you or your spouse don't like turning on the disposal because it is so loud. Call Wimpy's at 941-322-1911 to find out about powerful, yet quiet garbage disposals that are available.
Check out our website,www.Loveyourplumber.com.
A family business since 1973, serving the Sarasota, Bradenton areas with Florida State Certified Licensed Master Plumbers.