Why Do I Run Out Of Hot Water Or Just Get Lukewarm Water?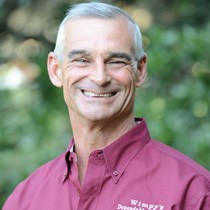 Running out of hot water has happened to a lot of folks. Why is it, that it happens at the coldest time of the year? Murphy's Law or not?
If you currently have an electric water heater, and have had plenty of hot water in the past and now you are only getting lukewarm water, then this is an indication of a lower heating element not working.
There are several ways to confirm this. First turn off the power to the water heater and remove both access covers, the upper and lower covers and check it with a voltage meter to make sure the power is off.
After confirming the power is off, to manually check the elements without an electric meter, just put your thumb or finger on the tank itself next to the element. If the top element is working properly, the tank should be hot to the touch near the element. Check the bottom element the same way. If, next to the bottom element, it feels cooler than the top element, then you have just found out that your bottom element is not working and needs to be replaced.
Your plumbing professional would also use an electric meter to see if the element has continuity and if it is drawing the correct amperage and voltage.
Plumbers have to know a lot about a variety of different trades. Electric being one of them, in order to properly diagnosis why you are only getting lukewarm water or no hot water at all.
Sometime, depending on your hot water usage, the lukewarm problem may only surfaces when the weather gets cold. This is caused by the temperature of the incoming water being colder, due to the weather. If the bottom element is not working, the top element can't keep up when you take a shower, due to the temperature rise necessary to keep up when the incoming water was warmer.
If you are getting no hot water at all, you will need to check to see if you have the proper voltage coming into the water heater. If the voltage is correct, check to see if the reset button on the top thermostat is tripped. If it makes a definite click when you push it, it was tripped. Sometimes this is caused by an electrical surge or a faulty thermostat.
If your electric meter shows no voltage, then you may have a bad electric breaker or a bad switch.
Your plumber in Sarasota should be able to guide you through the steps to check these things or schedule to come check it for you.
Wimpy's Plumbing & Air is available 24/7 to answer your questions or come to your home to give you an estimate. Call 941-322-1911 or schedule on-line at www.LoveYourPlumber.com