Automatic Shut Off Valves in Sarasota
When it's time for plumbing installation in Sarasota, FL, the experts from Wimpy's
When a burst pipe begins to flood your home, the very first thing you should do is shut off water to your home. Of course, you might not be home when a pipe bursts, or you may be unable to get to your shutoff valve before the flooding creates significant damage. That's why we recommend automatic shutoff valves to all of our customers in Sarasota, FL and the surrounding areas.Automatic water shutoff valves are able to detect major leaks instantly and shut off the water within seconds. This stops the flooding and keeps your home safe, potentially saving you thousands of dollars in home repairs, mold remediation services, and cleanup. Your automatic shutoff valve continuously works for you as long as it is correctly installed and regularly maintained. Get your new plumbing component from our friendly team of experienced plumbers!
We install and service automatic shutoff valves in the Sarasota, FL area. Call Wimpy's Plumbing & Air, and love your plumber!
Why choose Wimpy's for your Sarasota area Plumbing needs?
Our employees are fully-trained & licensed technicians so you can trust we get the job done right.
We'll show up on time and work hard to get you the very best solution to your problem.
We've been trusted in the community for 50 years!
How Can We Help?
Call us today for all your Plumbing needs!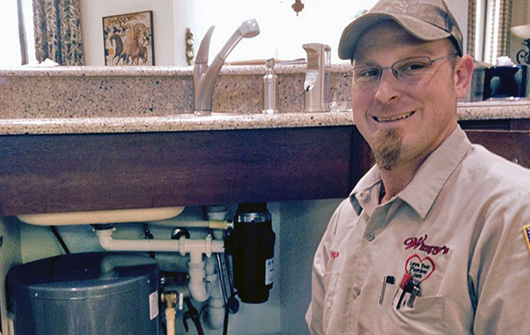 Why Should You Have an Automatic Shutoff Valve?
Anyone who has ever dealt with a flooded home knows that it can be a disaster. A burst pipe can begin to fill your home quickly, and you may not be able to get to the valve fast enough to stop it, especially if you are asleep or away from the home.
Cleanup is a difficult process after a flood, and the damage to your property can be significant. You may have to spend hundreds or even thousands of dollars replacing carpet, furniture, and other valuables. All of the hassle involved with a burst pipe is something that no homeowner ever wants to deal with.
Unfortunately, a pipe can break at any time—whether it's due to faulty installation, poor maintenance, corrosion, freezing, or environmental factors near the home. An automatic shutoff valve detects a leak before you can, stopping the flow of water into your home as soon as it detects a change in the water pressure.
They are also very reliable as long as they are maintained properly and replaced towards the end of their lifespan. Keep an eye on your automatic water shutoff valve and schedule professional maintenance on an annual basis.
Maintaining Your Emergency Shutoff Valve
Like any other system, there could come a day when your automatic shutoff valve fails. And unfortunately, it can be difficult to tell if the valve isn't working, especially since you only really need it to work every once in a while. Check your water shutoff valve from time to time for leaks and make sure that the power supply is connected. Some systems also allow you to run a test on the system.
Additionally, we recommend scheduling maintenance annually as part of caring for your plumbing system. A professional will see to it that your shutoff valve is in top shape and recommend a replacement if necessary. Put this job in the hands of our team, and you can always expect honesty and quality work. We provide automatic shutoff valve installation and maintenance in the Sarasota, FL area. Call today!