Prevention & Backflow Testing Sarasota
We don't often hear about the dangers of backflow in a plumbing system. And this is largely due to the fact that today's plumbing systems are outfitted with backflow prevention devices that help to keep you safe. But a sudden change in pressure in your pipes could potentially allow a nearby source of contamination to move into the pipes, ruining your potable water supply or the municipal water supply with pesticides or other harmful substances.
A backflow prevention device is a mechanical unit with check valves that help to protect the water supply from the threat of backflow and backsiphonage. But only select plumbers are qualified to work on these devices. At Wimpy's, our Sarasota plumbers have the proper certification for backflow testing, installation, and repair. Call a trusted plumber for backflow prevention, backflow testing in Sarasota, and as always, quality customer service.
Wimpy's Plumbing & Air provides backflow prevention services in the Sarasota, FL area. Call today and love your plumber!
Why choose Wimpy's for your Sarasota area Plumbing needs?
Our employees are fully-trained & licensed technicians so you can trust we get the job done right.
We'll show up on time and work hard to get you the very best solution to your problem.
We've been trusted in the community for 50 years!
How Can We Help?
Call us today for all your Plumbing needs!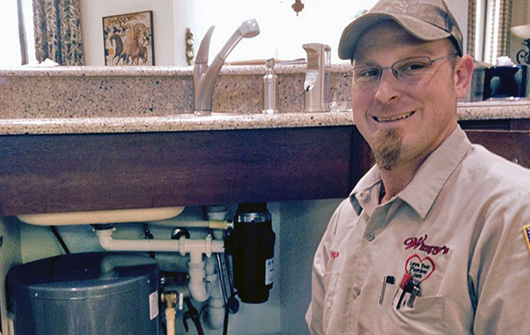 The Risk of Backflow Contamination
Backflow prevention devices are installed at any cross–connection (where a resident's or business's water supply meets the public supply) at which there is a risk of backflow. Backflow can occur in one of two ways, backpressure or backsiphonage, and either can allow harmful substances to enter into the public supply or into a building's water supply.
One example of backflow occurs when there is a sudden drop in pressure from the water main, such as when firefighters gain access to a connected fire hydrant. If a cross connection occurs near a commercial property that uses chemicals, fertilizers, or pesticides, these could get drawn into the pipes and move into the public supply. The most common source of backflow occurs with garden hoses, and becomes dangerous if the hose is submerged in a swimming pool or in chemicals.
Backflow prevention devices are regulated by local authorities, as are their installation and maintenance. Many businesses are required to get backflow devices tested regularly, and they must call plumbers with backflow certification to ensure the job is completed properly.
Backflow–Certified Sarasota Plumbers
Have you recently discovered that you need a backflow prevention device installed on your property? Do you need backflow testing in Sarasota or repairs for your existing backflow preventer? We have the proper certification to work on your backflow prevention device and provide backflow testing, maintenance, or installation services. Our team, including state–licensed master plumbers, will see to it that the job is completed properly and safely, so that you don't pose a risk to the public water supply and so that you don't have to worry about contamination on your property.
Our plumbers have the proper certification for backflow prevention in Sarasota, FL, and the surrounding areas. Our commitment to quality and customer service cannot be beat. We are happy to answer whatever questions you may have about backflow prevention and the local codes that regulate the devices. We show up prepared with the right tools for any job, and we keep you informed throughout every step of the process. Call Wimpy's Plumbing & Air today for backflow prevention services, and we will exceed your expectations.