Energy & Water Conservation in Sarasota
Going about your daily routine with the comfort and convenience that you demand does not come for free. You must pay for the water that you use in your home when you shower and do the dishes, just as must pay for the energy that use in heating that water and even in drawing it up from a well, should you have a private water supply. Even so, you really shouldn't find yourself worrying about the cost of doing so. If you want to enjoy greater efficiency and affordability in your home, then energy and water conservation in the Sarasota, FL area is key.You can count on the energy conservation experts here at Wimpy's Plumbing & Air to help you to live in a more efficient and conservative manner. Give us a call today to learn more about the many ways in which you may do so. The professionals on our staff are happy to answer any questions that you may have.
Wimpy's Plumbing & Air provides energy and water conservation products and services near Sarasota, FL, and the surrounding areas.
Why choose Wimpy's for your Sarasota area Plumbing needs?
Our employees are fully-trained & licensed technicians so you can trust we get the job done right.
We'll show up on time and work hard to get you the very best solution to your problem.
We've been trusted in the community for 50 years!
How Can We Help?
Call us today for all your Plumbing needs!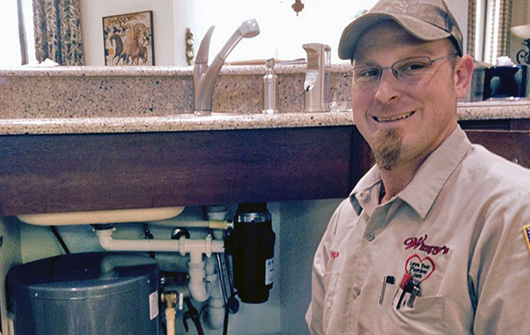 Use High Efficiency Plumbing Fixtures
Nobody is going to tell you that you should be skipping showers or not brushing your teeth in the morning, just so that you can save water. In these modern times, we are used to a certain amount of luxury and comfort. Thankfully, though, living in these modern times also means that we have access to modern technology. If you are serious about using water in your home more efficiently, then you are wise to consider the installation of high efficiency plumbing fixtures throughout your home.
There are a lot of different types of high efficiency plumbing fixtures to consider. In some instances, homeowners may choose to replace their toilets with low–flow models. This can greatly reduce the amount of water that is used throughout the day, each and every time that you flush the toilet in your home. You may also want to consider using a low–flow shower head. Some homeowners may be hesitant to take advantage of such products, as they worry about the effect that this reduced flow–rate will have on their water pressure. However, by using aeration in its operation, a low–flow shower head keeps the pressure up, while cutting water usage down.
Take Advantage of Water Recirculating
While most homeowners have probably at least heard of low–flow and high efficiency plumbing fixtures, fewer are likely familiar with the concept of water recirculating. This is too bad, as recirculating water in one's home is actually one of the most effective ways in which to reduce energy expenditure and water use therein. It's actually a pretty simple concept.
In a plumbing system, the cold water left in pipes between the water heater and the faucet or fixture is typically just drained out of the system, meaning that both that water and the energy that was used to heat it before it cooled is wasted. When you use a water recirculating system, though, the water that has been left in the pipes is pumped back to the water heater. It can then be reheated from its current temperature, saving energy and water in the process. Call to learn more about your potential water and energy conservation options.