Pumps & Tanks Sarasota
While it may sound a bit broad, "pumps and tanks" actually constitute a pretty substantial part of our service offerings. In any given plumbing system, there are a variety of pumps and tanks performing multiple important tasks. If you need any pump or tank services in the Sarasota, FL area, then you are certainly already looking in the right place.
When you work with Wimpy's Plumbing & Air, you can count on any necessary pumps and tanks in your home being installed and serviced with the greatest of care. Just give us a call today if you have any questions about the pumps and tanks present in your home, or those that you may wish to incorporate into your residential plumbing system. The professional Sarasota plumbers on our staff are happy to answer any questions that you may have.
Wimpy's Plumbing & Air provides pump and tank services near Sarasota, FL, and the surrounding areas.
Why choose Wimpy's for your Sarasota area Plumbing needs?
Our employees are fully-trained & licensed technicians so you can trust we get the job done right.
We'll show up on time and work hard to get you the very best solution to your problem.
We've been trusted in the community for 50 years!
How Can We Help?
Call us today for all your Plumbing needs!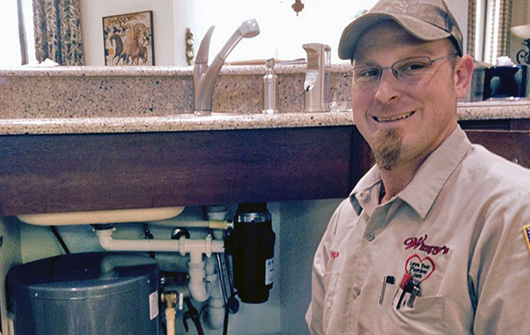 We Install and Service Pressure Tanks
The pressure tank is a vital component in many—but not all—residential plumbing systems. When you hop in the shower or turn on your faucet to wash your hands, you expect the water to come out at a certain level of pressure. If you are connected to a municipal water supply, you probably are not responsible for the regulation of this pressure. If you have a well or another private water supply, though, then you will need a pressure tank in order to ensure that the water coming from your plumbing system does so at the right pressure level. When we install and service your pressure tank, you can count on this being the case.
Do You Need a Well Pump?
While the pressure tank in a home can maintain proper water pressure by bearing down on that water with compressed air, there is also the matter of getting water out of the well to begin with. If you use a well in this day and age, there is probably little chance that you are getting water into your home via the use of a bucket and a rope. Instead, you'll use a well pump, which will draw water out of your well in a reliable and convenient manner, assuming that it is of the right capacity for your set up and that it is installed and serviced by a trained professional.
What Are Pressure Switches?
If you have a well pump or a pressure tank in your home, then you really need to know that the pressure within that pump or tank is kept within a reasonable limit. There are a lot of problems that can develop if the pressure within gets too high, with a bursting tank or pump being the most extreme. With a good pressure switch that is professionally installed and tested, though, you won't have to worry about pressure building to unsafe levels. This helps to protect your safety, as well as the condition of your plumbing system.
Why Use an Aeration System for Your Well?
Do you get your water from a private well? Even if your water is of a good quality, you may find that it has something of a foul odor. This is due to the hydrogen sulfide in that water. It may also contain minerals such as iron in too high a quantity. By running your well water through an aerator, you can remove that iron and hydrogen sulfide in order to improve its quality and to get rid of that foul odor. Contact us if you're having trouble with your well water.