Water Heater Replacement in Sarasota
Whenever you need water heater installation in Sarasota, FL the expert plumbers at
When it's time for a new water heater, call us at Wimpy's and ask us about our water heater replacement in Sarasota. We'll ensure that you get a great new water heater for your home, one that provides plenty of hot water for your needs and that comes from a reliable manufacturer.
If you're interested in tankless hot water heater replacement, call us about that today! We can convert your current system so that it will work with a tankless water heater or we can get you a tankless water heater replacement.
No matter what we have to do, we'll get your hot water running again soon!
Why choose Wimpy's for your Sarasota area Plumbing needs?
Our employees are fully-trained & licensed technicians so you can trust we get the job done right.
We'll show up on time and work hard to get you the very best solution to your problem.
We've been trusted in the community for 50 years!
How Can We Help?
Call us today for all your Plumbing needs!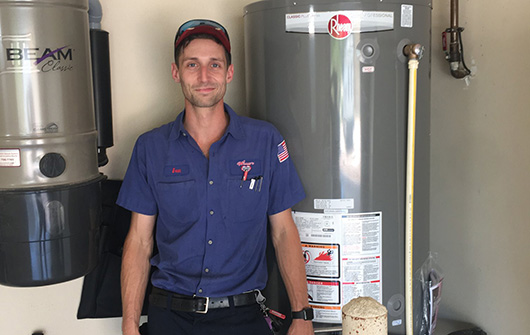 How Do I Know When to Replace My Water Heater?
Not sure if now is the time for a water heater replacement? We know this is a significant investment and we want you to feel good about it. We recommend water heater replacement in the following situations:
Your current water heater is old and/or isn't working well. Age alone is not usually a reason to buy a new water heater but an old water heater that isn't getting you the hot water you need should be replaced.
Your current water heater requires extensive repairs. If the repairs are going to cost more than half of what a new water heater would cost, we recommend replacement instead of repair.
Your current water heater is too small for your needs. If you don't have enough hot water, our water heater replacement service can get you a bigger water heater ASAP.
Friendly Staff
Our schedulers are friendly and knowledgeable. They'll get you a convenient appointment with an expert who will arrive on time and make sure we understand your needs and set you at ease.
If you're looking for new water heater installation in Sarasota, FL, call Wimpy's Plumbing & Air ASAP. We'll get to you soon and give you all the information you need to choose the best new water heater for your home. Whether you need tanked or tankless water heater installation, you'll always get top quality service from Wimpy's!
Water Heater Services
Our technicians will assess your water heater and let you know if it's time to get a new one at your place in Sarasota. We can happily offer recommendations on brands and top of the line models.