Drainage & Sewer Systems in Bird Key
When you need drain or sewer cleaning in Bird Key, call in an experienced plumber from Wimpy's Plumbing & Air. We hire some of the best plumbers in the area with the best in education and experience, then we invest in developing their skills even more. By the time they come to you, they are more than competent to solve any problem you might have in an efficient manner.
Give your trusted plumber a call today, and rest assured in knowing that your drain and sewer systems are in great hands. Reach out now!
Why choose Wimpy's for your Sarasota area Service Area needs?
Our employees are fully-trained & licensed technicians so you can trust we get the job done right.
We'll show up on time and work hard to get you the very best solution to your problem.
We've been trusted in the community for 50 years!
How Can We Help?
Call us today for all your Service Area needs!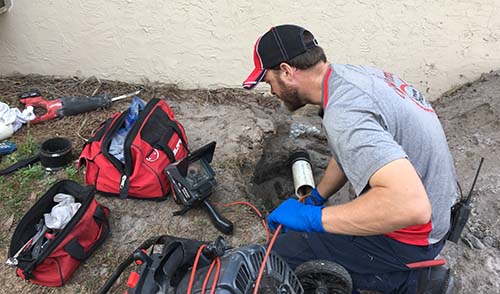 Drain Cleaning Bird Key, FL
Our Bird Key drain cleaners are experts in determining the type of drain clog you have. If you only have one drain that is clogged, they will try to remove or break up the clog in the line directly below wherever you're experiencing the clog.
Most of the time, they'll use a plumbing snake to do this. These flexible cables can be threaded down your drain. We use professional-grade snakes, which are more robust and easier to use than the ones available for rent at your local hardware store. They won't get stuck in your lines and, instead, will get rid of your drain clog fast.
Sometimes, we will use chemical drain cleaners to try to clear your line, too. These can damage your pipes but, when used under an expert eye, can also remove the clog fast. Trust Wimpy's for reliable drain cleaning in Bird Key to fix the following drain problems…
For simple clogs
For minor issues in toilets, sinks, showers, & tubs
For issue not deep in the sewer
Bird Key's Sewer Experts
If neither of the above methods works to unclog your drains or you have multiple clogged drains in your home, we'll take a look at your sewer. First, we'll send a camera on a flexible cable down your sewer line to see if there's a clog there. If we find one, the camera will tell us exactly where it is and what it is made of, which helps us choose the right strategy for your sewer drain line clearing.
We'll work with you to find the best way to clean out your sewer in Bird Key. Most of the time, we can use trenchless methods to get the job done. These don't require us to dig up your entire yard, like in a conventional sewer cleaning or repair. Instead, we'll do your drain line clearing through the same access port that we threaded the camera cable through. Before long, your sewer will be back to normal without any hassle to you!
Drain Cleaning
You may not think about your drains in terms of cleanliness too often. However, it is actually quite detrimental to have dirty drains in your home. While harsh chemical cleaners may seem like a good, quick fix, professional drain cleaning is really the only way in which to know for certain that your drains are clean and fully functional.
Sewer Cleaning
The sewer line on your property is tasked with a very important job, and it is not going to be able to do that job well if it is not clean within. Tree roots and other blockages may impede your sewer line's ability to function properly. Our sewer cleaning services can get it back on track.
Hydrojetting
Hydro–jetting is a very effective and eco–friendly way in which to remove clogs from and to clean out your sewer line. High–pressure water is used to effectively scrub the interior surfaces of the drain line. Give us a call and schedule hydro–jetting with a skilled and experienced plumber.
Sewer Camera Inspection
One problem that you may discover with your plumbing system is that it is tough to figure out where the source of a performance issue stems from. By using a sewer inspection camera, though, our plumbers can peer directly into the system to figure out what's gone wrong. Dial our number to have your system thoroughly and effectively inspected today.
Repiping
When you need new pipes, whether it's throughout your home or just in one area, call us at Wimpy's. We'll get you the best pipes in the least amount of time and with as little hassle to you as possible.
Pipe Relining
Pipe relining allows us to replace one piece of broken pipe when the rest of the pipe is still intact. We'll dig one small hole, then pull a flexible pipe through the inside of your current line. When it's in the right place, we'll inflate this liner. A special resin allows it to attach to the existing pipe to cover over any holes or other problems.