Drainage & Sewer Systems in Bradenton
When you need drain cleaning in Bradenton,Wimpy's Plumbing & Air has your back. Our experienced Bradenton plumbers offer professional drain cleaning and sewer services. We're equipped to handle any type of clog imaginable and have the equipment to get the job done right, When you choose us, you'll never have to worry about us leaving a huge mess behind.
When you're in need of help, call your trusted plumber in Bradenton FL right here at Wimpy's Plumbing & Air. Don't wait until a minor clog turns into a full–scale disaster. Contact us today to schedule an appointment.
Why choose Wimpy's for your Sarasota area Service Area needs?
Our employees are fully-trained & licensed technicians so you can trust we get the job done right.
We'll show up on time and work hard to get you the very best solution to your problem.
We've been trusted in the community for 50 years!
How Can We Help?
Call us today for all your Service Area needs!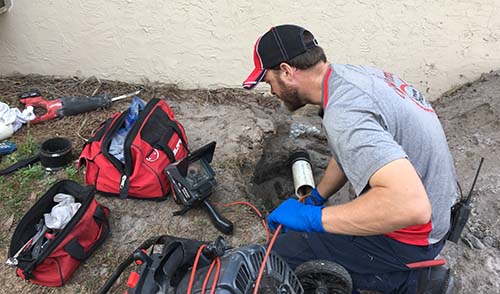 Drain Cleaning in Bradenton
Whether you are dealing with a stopped up sink, toilet, shower or floor drain, one thing is for sure – it can really put a damper on your day. Clogged drains and drain cleaning are some of the most common plumbing woes that we see in Bradenton.
When you notice a drain that is no longer draining as quickly as it used to, have it cleaned as soon as possible. The longer you wait, the more difficult the clog will become. Something that seems relatively simple could indicate a more serious problem like a clog in your main sewer line. When ignored, problems like these can lead to serious damage and major expenses.
Sink
Toilet
Shower
Floor drain
Bradenton's Sewer Experts
A backed-up sewer line is a disgusting plumbing problem that no homeowner wants to face. Unfortunately, they are a pretty common disaster. A clogged sewer line can lead to significant property damage and cost thousands of dollars to repair. Your home's sewer line is responsible for safely removing waste from your property, so it is important to take care of it and make sure it works like it should.
When you contact Wimpy's Plumbing & Air for sewer cleaning in Bradenton, you can rest assured knowing that the problem will be taken care of promptly by a licensed professional. We will dispatch a plumber right away, and they will get to work cleaning your sewer line as quickly as possible. We employ safe and effective sewer cleaning techniques that allows us to break up even the most stubborn clogs without damaging your sewer line.
Drain Cleaning
You may not think about your drains in terms of cleanliness too often. However, it is actually quite detrimental to have dirty drains in your home. While harsh chemical cleaners may seem like a good, quick fix, professional drain cleaning is really the only way in which to know for certain that your drains are clean and fully functional.
Sewer Cleaning
The sewer line on your property is tasked with a very important job, and it is not going to be able to do that job well if it is not clean within. Tree roots and other blockages may impede your sewer line's ability to function properly. Our sewer cleaning services can get it back on track.
Hydrojetting
Hydro–jetting is a very effective and eco–friendly way in which to remove clogs from and to clean out your sewer line. High–pressure water is used to effectively scrub the interior surfaces of the drain line. Give us a call and schedule hydro–jetting with a skilled and experienced plumber.
Sewer Camera Inspection
One problem that you may discover with your plumbing system is that it is tough to figure out where the source of a performance issue stems from. By using a sewer inspection camera, though, our plumbers can peer directly into the system to figure out what's gone wrong. Dial our number to have your system thoroughly and effectively inspected today.
Repiping
When you need new pipes, whether it's throughout your home or just in one area, call us at Wimpy's. We'll get you the best pipes in the least amount of time and with as little hassle to you as possible.
Pipe Relining
Pipe relining allows us to replace one piece of broken pipe when the rest of the pipe is still intact. We'll dig one small hole, then pull a flexible pipe through the inside of your current line. When it's in the right place, we'll inflate this liner. A special resin allows it to attach to the existing pipe to cover over any holes or other problems.