Drainage & Sewer Systems in Casey Key
When you need to find the best drain cleaners in Casey Key, look no further than Wimpy's Plumbing & Air. We have some of the very best plumbers in the area on our staff and we make sure we invest in their continued training every year. This means that they have access to the latest technology and they know how to use it to unclog your drains.
Call us now for help with any of your drain or sewer issues!
Why choose Wimpy's for your Sarasota area Service Area needs?
Our employees are fully-trained & licensed technicians so you can trust we get the job done right.
We'll show up on time and work hard to get you the very best solution to your problem.
We've been trusted in the community for 50 years!
How Can We Help?
Call us today for all your Service Area needs!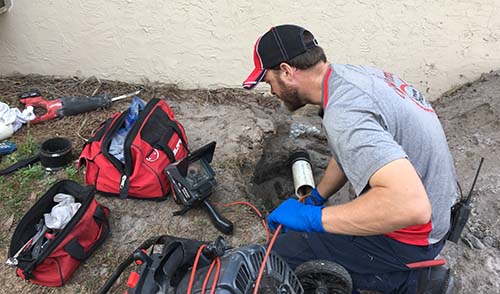 Drain Cleaning Casey Key, FL
As soon as you call us about drain cleaning in Casey Key we'll find a time for one of our local plumbing experts to get out to you. Your plumber will arrive on time since we know you don't have extra hours in your day to waste waiting for help to arrive. Once we're there, we'll ask you a few questions about your drain. This helps us gain a full understanding of the problem. Trust Wimpy's for reliable drain cleaning in Casey Key. We offer…
Fast plumbers
Detailed service
Weekend appointments
Expert Drain Cleaning Casey Key, FL
Next we'll take a look at your drain. Most of the time, we do your drain cleaning in Casey Key, FL, with a professional-grade plumbing snake. These tools allow us to remove or break up your drain clog without harming your pipes and without dismantling them, either. Sometimes, we need to use other drain cleaners in Casey Key. We may use chemical agents or replace a section of your pipe or drain. The method we use depends on the location of the drain clog and whether it is there due to some sort of drain malfunction or if it just gathered there over time.
Sewer Cleaning in Casey Key
Sometimes, having a clog actually means you need a sewer drain line clearing in Casey Key. If this is the case for you, we'll send a camera down your sewer line so we can see what your clog is made up of and where it is located in your line. Once we know this, we'll come up with a plan to unclog your drains.
Most of the time, we use hydrojetting for our sewer drain line clearing. We'll make sure that this will work for you, then get started. The process involves sending a highly concentrated stream of water through your sewer to break up the clog. It can handle anything from grease to tree roots. We'll keep working until we get the problem solved, and test your drains when we're done.
Drain Cleaning
You may not think about your drains in terms of cleanliness too often. However, it is actually quite detrimental to have dirty drains in your home. While harsh chemical cleaners may seem like a good, quick fix, professional drain cleaning is really the only way in which to know for certain that your drains are clean and fully functional.
Sewer Cleaning
The sewer line on your property is tasked with a very important job, and it is not going to be able to do that job well if it is not clean within. Tree roots and other blockages may impede your sewer line's ability to function properly. Our sewer cleaning services can get it back on track.
Hydrojetting
Hydro–jetting is a very effective and eco–friendly way in which to remove clogs from and to clean out your sewer line. High–pressure water is used to effectively scrub the interior surfaces of the drain line. Give us a call and schedule hydro–jetting with a skilled and experienced plumber.
Sewer Camera Inspection
One problem that you may discover with your plumbing system is that it is tough to figure out where the source of a performance issue stems from. By using a sewer inspection camera, though, our plumbers can peer directly into the system to figure out what's gone wrong. Dial our number to have your system thoroughly and effectively inspected today.
Repiping
When you need new pipes, whether it's throughout your home or just in one area, call us at Wimpy's. We'll get you the best pipes in the least amount of time and with as little hassle to you as possible.
Pipe Relining
Pipe relining allows us to replace one piece of broken pipe when the rest of the pipe is still intact. We'll dig one small hole, then pull a flexible pipe through the inside of your current line. When it's in the right place, we'll inflate this liner. A special resin allows it to attach to the existing pipe to cover over any holes or other problems.