Drainage & Sewer Systems in Lakewood Ranch
If you're concerned about your drains or your sewer, reach out to us at Wimpy's Dependable Plumbing today. We'll have an experienced plumber at your house soon to get your plumbing working again ASAP.
When you need plumbers that you can count on, call us at Wimpy's Plumbing & Air. No matter what you need to have done with your drains or sewer system, our technicians will get to you quickly and find the best solution for your property.
Why choose Wimpy's for your Sarasota area Service Area needs?
Our employees are fully-trained & licensed technicians so you can trust we get the job done right.
We'll show up on time and work hard to get you the very best solution to your problem.
We've been trusted in the community for 50 years!
How Can We Help?
Call us today for all your Service Area needs!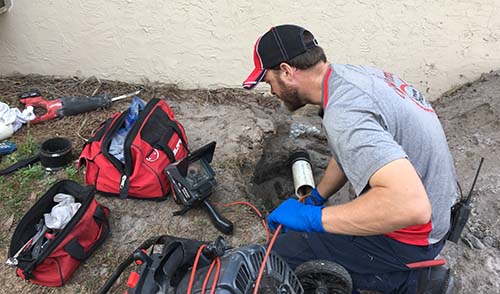 Sewer & Drain Cleaning, Lakewood Ranch, FL
Do you have stubborn clogs or clogs that keep coming back, no matter how many times you clear them? Contact us for drain cleaning in Lakewood Ranch, FL. We'll get rid of that clog for good so you won't have to worry about it anymore. Our team has years of experience and many ways to remove clogs, so we are sure we can eliminate yours!
If your clog is deeper in your plumbing system, like in your sewer line, we'll find it and get rid of it as quickly as possible. Our team will figure out where your clog is and what it's made of, then determine the best way to proceed with your sewer or drain cleaning in Lakewood Ranch.
Drain cleaning for small clogs
Sewer cleaning for larger clogs
Hydrojetting for major issues
Lakewood Ranch's Hydrojetting Experts
Most of the time, our plumber in Lakewood Ranch will use hydro jetting to remove your clog and clean any gunk out of your pipes, too. Hydro jetting involves shooting a concentrated stream of water into your sewer. We'll aim it at the clog and use it to break up the clog, then send it on down the line. Our staff knows how to use this specialized tool to get rid of even the most stubborn issues and the most stuck clogs.
Sewer Video Camera Insepctions
Whenever you need to see inside a sewer line, contact us about a Lakewood Ranch video sewer inspection. Our plumbers will send a camera on a flexible cable down the line. This allows us to see any problems or potential problems with the line. It also allows us to find lost objects that got washed down the drain, as long as those objects got stuck in the sewer.
Sewer Repair
If your sewer has cracks or breaks, contact us about sewer repair in Lakewood Ranch. We'll come out, assess your sewer line, then determine the best way to fix it fast. Whenever we can, we'll leverage trenchless sewer repair technology to make your repair faster, cheaper, and less stressful than ever before. Get your sewer working well again fast when you rely on our team from Wimpy's
Sewer Replacement
Get a brand new sewer line installed in a flash when you contact us about a sewer replacement in Lakewood Ranch. We'll make sure that a new sewer line is what you need, then get to work and get your new pipes in place as quickly as possible. Once again, we'll use trenchless methods whenever we can because they make your sewer replacement easier!