Drainage & Sewer Systems in Lido Key
If you're looking for reliable plumbing professionals who can help you with a clogged drain or a sewer issue, you've come to the right place! At Wimpy's Dependable Plumbing, we have a team of skilled plumbers who are ready and waiting to help you out in Lido Key.
Call us today to get on our schedule ASAP! Whether you have an urgent plumbing problem or you just have a question, we'll get you the solutions you need as soon as we can. Rely on us for all of your plumbing needs!
Why choose Wimpy's for your Sarasota area Service Area needs?
Our employees are fully-trained & licensed technicians so you can trust we get the job done right.
We'll show up on time and work hard to get you the very best solution to your problem.
We've been trusted in the community for 50 years!
How Can We Help?
Call us today for all your Service Area needs!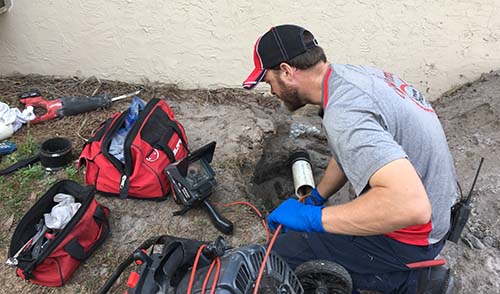 Drain Cleaning in Lido Key
Drain cleaning doesn't have to be stressful! If you have a clog that won't go away or one that keeps coming back no matter what you do, get our plumbers on the job soon. We'll find the solutions you need and get rid of your stubborn clog for good. We rely on many drain cleaning methods, so you won't have to worry about your drains again.
Drain cleaning
Sewer cleaning
Hydrojetting
Lido Key's Hydrojetting Experts
If it is a good solution for your sewer line, we'll use Lido Key hydro jetting to break up your clog and send it down the line. Hydro jetting uses a concentrated stream of water to get rid of clogs for good. Our plumber will also spray off the sides of your sewer pipes, leaving them looking brand new.
Sewer Service in Lido Key
When your clog is deeper in your system, trying to get rid of it can be stressful. We'll find that clog, determine the best way to get rid of it, then proceed to eliminate it for good. Our team will get your sewer in Lido Key flowing normally again soon!
Video Sewer Inspection
If you're buying property and you need to see inside the sewer, or you think there's a problem in your sewer and you want to see what it is, call us about a Lido Key video sewer inspection. We'll send a camera down your sewer line to get you the answers you need. We may also be able to help you find lost jewelry or other items that went down your sewer
Sewer Repair Service
Our team can fix your sewer lines, too. Call us anytime you need a sewer repair in Lido Key. We'll work hard to find the problem so we can fix it fast. If they are best for you, we'll use trenchless sewer repair methods to make the project faster, cheapers, and less stressful for you!
Sewer Replacement
We can replace your sewer line, too. If sewer replacement in Lido Key is the best solution to your sewer issues, we'll notify you and get to work. As with sewer repair, we'll use trenchless techniques whenever we can.