Drainage & Sewer Systems in Myakka City
If your drains or sewers aren't working, call us at Wimpy's Dependable Plumbing right away. We'll work with you to make sure you have full drain and sewer functionality restored as soon as possible. No matter what it takes, we'll show up for you and keep working on your plumbing until your water and waste are draining well once again.
Call our team now for help in Myakka City!
Why choose Wimpy's for your Sarasota area Service Area needs?
Our employees are fully-trained & licensed technicians so you can trust we get the job done right.
We'll show up on time and work hard to get you the very best solution to your problem.
We've been trusted in the community for 50 years!
How Can We Help?
Call us today for all your Service Area needs!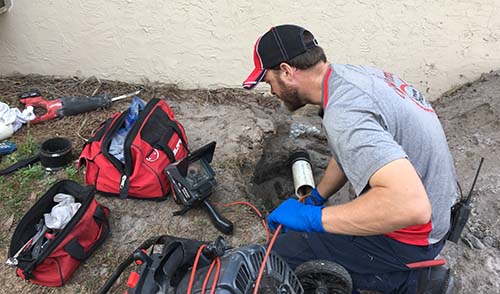 Drain Cleaning in Myakka City
When you need drain cleaning, our team promises to get to you quickly, figure out the best way to remove your clog, and get straight to work. We'll do whatever it takes to make sure your drains are not only clean, but that they will stay that way so you won't have to deal with them again anytime soon. You can count on the following when you hire us in Myakka City…
Fast plumbers
Detailed service
Expert tools
Myakka City's Hydrojetting Pros
Hydro jetting is one of the best ways to get your sewer cleaned out. If this method is compatible with your lines, we'll spray a concentrated stream of water into them. This will clean off the sides of your pipes and remove your clog, breaking it into smaller pieces and sending them down into Myakka City municipal sewer line. If you are interested in having it done, give us a call today!
Expert Sewer Services
Sewer Camera Inspection
If you want to take a look inside your sewer, either to find potential problems, figure out how to solve a problem you know is there, or see if you can find a lost object, contact us about our Myakka City video sewer inspection service today. Our team will ensure that you get the pictures of your sewer that you need.
Sewer Cleaning
Our team can also deal with Myakka City sewer cleaning projects. If you have a clog in your sewer line, we'll find it and eliminate it ASAP. We have a number of methods at our disposal, so we can always get to your clog and get rid of it, no matter what we have to do to achieve that.
Sewer Repair
Whenever you need sewer repairs in Myakka City, rely on our team from Wimpy's. We'll use the latest technology to help you get a top-quality sewer repair so you won't have to worry about anything. We'll work with you to make sure you have the functioning sewer you need.
Sewer Replacement
When it comes to sewer replacement in Myakka City, we'll be there for you no matter what it takes, so you can always get the sewer line service you need, even if the problem is complex. Our team can tackle anything, so don't ever hesitate to contact us when you need us.