Drainage & Sewer Systems in Nokomis
Are you worried about the way your drains or sewers are functioning? Do you wish that your average sewer bill in Nokomis, FL was lower?
At Wimpy's Dependable Plumbing, we can help you with anything related to your drains and sewers. Call us today and we'll send a skilled plumber to your house ASAP. No matter what it takes, we have your back and we'll get your sewer working the way you need it to soon.
Why choose Wimpy's for your Sarasota area Service Area needs?
Our employees are fully-trained & licensed technicians so you can trust we get the job done right.
We'll show up on time and work hard to get you the very best solution to your problem.
We've been trusted in the community for 50 years!
How Can We Help?
Call us today for all your Service Area needs!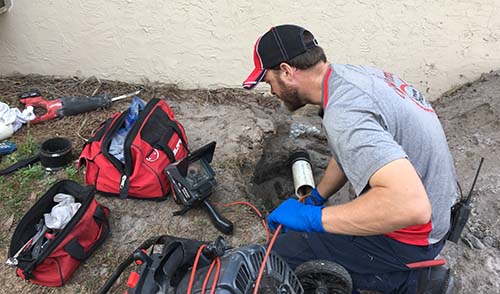 Drain Cleaning in Nokomis
If your drains are clogged, call us today for Nokomis drain cleaning. We'll get to you fast, find your clog, and figure out how to remove it efficiently. That way, your drains will be working normally again and you won't have to worry anymore. We'll use drain snakes or other methods to remove your clog fast.
Fast plumbers
Detailed service
Weekend appointments
Sewer Services in Nokomis
Whenever you need a sewer repair in Nokomis, rely on our team to get the job done the right way, the first time. We'll figure out what is wrong with your sewer, then come up with a way to fix it that is specific to your particular needs and the issues we've found in your line. Our team of plumbers will get to work right away and won't rest until your sewer is fixed.
If the best way to resolve your sewer problems is to replace the whole line, we can handle that, too. We'll get your sewer replacement in Nokomis completed ASAP so you can get back to using your plumbing normally again. Get a brand new sewer line fast when you work with our plumber.
Steps For Sewer Cleaning
Sewer Camera Inspection
One problem that you may discover with your plumbing system is that it is tough to figure out where the source of a performance issue stems from. By using a sewer inspection camera, though, our plumbers can peer directly into the system to figure out what's gone wrong. Dial our number to have your system thoroughly and effectively inspected today.
Sewer Cleaning
When the clog is in your sewer, it's easy to feel stressed about your plumbing. Instead, call us at Wimpy's so we can get on the job fast. We'll get rid of that clog so water and waste will drain away from your home again. Stop feeling anxious and get our plumbers on the job today!
Hydrojetting
Many times, we can use Nokomis hydro jetting to get rid of problems in your sewer line. Our plumbers will aim a pressurized stream of water down into your sewer pipes. It can break up clogs and help them flow down the line to the city sewer in the street. We can also use it to clean your pipes off and make them look like new.