Drainage & Sewer Systems in Osprey
When you need help with your drains or your sewer in Osprey, call us at Wimpy's Dependable Plumbing right away. We'll work with you to find solutions that are specific to your needs and that will last for a long time.
Never hesitate to call us for a drain or a sewer problem, no matter how small it might seem. We know that even little plumbing issues can cause major problems, so we'll fix them for you fast!
Why choose Wimpy's for your Sarasota area Service Area needs?
Our employees are fully-trained & licensed technicians so you can trust we get the job done right.
We'll show up on time and work hard to get you the very best solution to your problem.
We've been trusted in the community for 50 years!
How Can We Help?
Call us today for all your Service Area needs!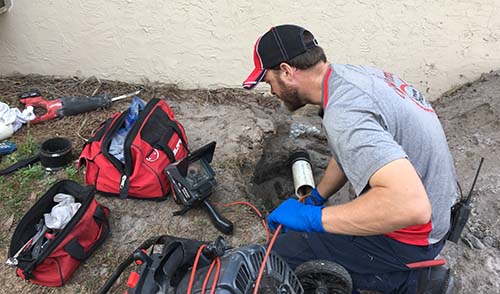 Drain Cleaning in Osprey
If you're looking for Osprey drain cleaning professionals who can remove your clog fast, then you're in the right place. We'll find your clog, then either remove it or break it up. We won't leave until you can use your drains normally again.
Food
Grease
Sediment
Calcium buildup
Toilet paper
Trash
Feminine products
Osprey's Hydrojetting Experts
When it will work for your clog and your pipes, we'll use Osprey hydro jetting to get rid of your clog. This highly-pressurized stream of water will break up even tough clogs and help them move down your pipeline. It will also clean the sides of your pipes, leaving them gunk-free and looking like new.
Sewer Services in Osprey
Sewer Cleaning
If your clog is in your sewer lines, reach out to our team ASAP. After all, you don't want your sewer to back up into your home. We'll get to you fast and get your Osprey sewer cleaning completed as quickly as possible.
Sewer Camera Inspection
Call our team whenever you need an Osprey video sewer inspection. We'll thread a camera on a flexible tube down your sewer line, taking time to look at the line from beginning to end. Our camera shows us if you need sewer repair or replacement, where any clogs are and what they're made of, and whether any items that got washed down your drains ended up in your sewer line.
Sewer Repair
Sewer repair in Osprey can feel stressful, but it doesn't have to be that way. In fact, our team will try to make it as easy on you and your family as possible. We'll work quickly and efficiently, so your sewer line will be back to normal fast. Whenever we can, we'll use trenchless sewer repair technology to fix your lines. This means less digging, which means even less disruption of your life and habits.
Sewer Replacement
If you need a sewer replacement in Osprey, we'll get that work completed ASAP, too. Our team can replace your entire sewer line, or just the parts that are broken or damaged. We'll work with you to make sure you get the solutions that are right for you and that will get your sewer line working again as soon as possible.