Drainage & Sewer Systems in Palmetto
If you're looking for a company that can help you with your Palmetto sewer or drain needs, look no further than our team at Wimpy's Dependable Plumbing. We promise to send a plumber to your address ASAP, assess your needs accurately, then get everything working again fast.
Call us now to schedule your Palmetto drain and sewer services soon!
Why choose Wimpy's for your Sarasota area Service Area needs?
Our employees are fully-trained & licensed technicians so you can trust we get the job done right.
We'll show up on time and work hard to get you the very best solution to your problem.
We've been trusted in the community for 50 years!
How Can We Help?
Call us today for all your Service Area needs!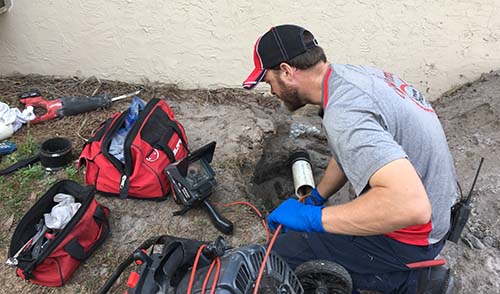 Drain Cleaning in Palmetto
Our team will complete your Palmetto drain cleaning fast, no matter what it takes. We'll start by locating your clog, then we'll come up with a plan to eliminate it that fits your specific situation. Our team won't leave until that clog is gone!
Fast plumbers
Detailed service
Expert tools
Myakka City's Hydrojetting Pros
If it will work for your clog and your pipes, we'll use hydro jetting to clean out your sewer. This trenchless method means using a pressurized stream of water to break up your clogs and leave your pipes looking like new.
Expert Sewer Services
Sewer Camera Inspection
Before we start any sewer cleaning or sewer repair, we'll do a Palmetto video sewer inspection first. You can also schedule one of these if you simply suspect a sewer problem or if you want to perform a sewer inspection. Our camera will show us exactly what is going on in your sewer.
Sewer Cleaning
Clogs in the sewer line can cause major problems. If you think you have one of these, contact our Palmetto sewer cleaning team right away. We'll come out, find that clog, then get rid of it with as little stress for you and your family as possible.
Sewer Repair
Sewer repair in Palmetto can produce a lot of anxiety, but it doesn't have to be that way. Our team will work fast to assess your sewer's needs, then devise a plan to get everything working again soon. We'll keep at it until that sewer is back to normal. If we can, we'll use trenchless sewer repair methods because these are faster and less stressful for you. They mean that we won't have to dig up your sewer line in order to fix it. These methods don't work with every sewer line or for every problem, but we will use them if they will work for you
Sewer Replacement
Our team can replace your sewer line, too. When you require a sewer replacement in Palmetto, bring in our experts. We'll determine whether we need to replace the entire line or just part of it, then work to get your solution in place as soon as we can. You'll be using your brand new sewer line before you know it!