Drainage & Sewer Systems in Siesta Key
At Wimpy's Dependable Plumbing, we offer a complete line of Siesta Key drain and sewer services. We'll work with you to make sure your sewer and drain problems are resolved so you can use your plumbing normally again. Call us now, or whenever you need plumbing help.
Give our trusted plumbers a call today, and rest assured in knowing that your drain and sewer systems are in great hands. Reach out now!
Why choose Wimpy's for your Sarasota area Service Area needs?
Our employees are fully-trained & licensed technicians so you can trust we get the job done right.
We'll show up on time and work hard to get you the very best solution to your problem.
We've been trusted in the community for 50 years!
How Can We Help?
Call us today for all your Service Area needs!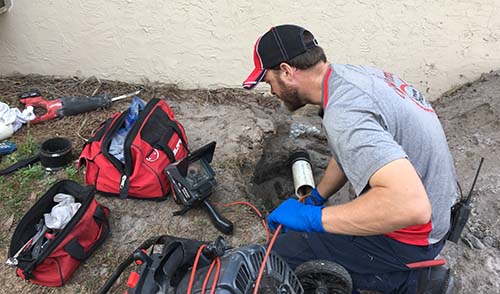 Drain Cleaning in Siesta Key
We'll take care of your drain cleaning issues fast, so you won't have to worry about it anymore. After all, no one likes living with a clogged drain, and some of them can cause major problems if left alone. We'll get rid of your clogs in Siesta Key and get everything flowing again soon.
For simple clogs
For minor issues in toilets, sinks, showers, & tubs
For issues not deep in the sewer
Siesta Key's Hydrojetting Pros
Hydro jetting is one of the professional that ways we commonly deal with sewer clogs in Siesta Key. We'll spray a pressurized stream of water at the area where the clog is to break it up and send it down the line. Then we'll clean off the sides of your pipes so they look brand new.
Other Expert Sewer Services
Sewer Cleaning
Stop worrying about your sewer and contact our team about a Siesta Key sewer cleaning today. We'll make sure we find your clog, then design a plan to remove it or break it up that is specific to your needs. It won't be long before that clog is gone and you can rest easy at home again.
Sewer Camera Inspection
When you want to take a look inside your sewer line, reach out to us about a Siesta Key video sewer inspection. We'll send a camera on a flexible cord down your sewer to take pictures of any damage or clogs, or even to help you find objects that got lost down the drain.
Sewer Repair
Our team can handle any sewer repair in Siesta Key that you might need. From cracked lines to broken ones to other issues, we'll find the problem and come up with a plan to repair it fast. No matter what it takes, we won't stop working until your sewer is fixed.
Sewer Replacement
If it's sewer replacement in Siesta Key that you need, we'll handle that, too. Our team will make sure your new sewer line works great before we leave, because we know you don't want to have to deal with sewer issues again anytime soon!