Can I Put Pumpkin Pulp/Guts/Seeds in my Garbage Disposal or Down my Toilet?
Fall is here and it's time to carve a pumpkin and make pumpkin pie. This is a great time for the family to participate in carving a pumpkin and to enjoy the weather. What will turn a fun time intoa plumbing disaster is to carve the pumpkin in the kitchen sink, thinking your disposal will just grind the pulp and seeds up, never to be seen again. Take this advice from your professional plumbers in Sarasota: Don't put pumpkin pulp or pumpkin seeds down your disposal. The pumpkin pulp is stringy and sticky. When it dries, it hardens in the drain pipes and will choke off the opening in the pipes, clog your garbage disposal and gum it up. Since the weather is so nice, take this project outside and put down newspaper to catch the mess, then bundle it all up when you are done and throw it in the trash. This action will prevent you from having to call a plumber for drain cleaning in Sarasota or the surrounding areas.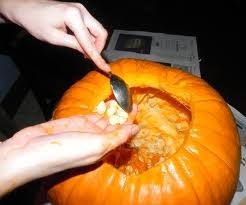 Some people may think that the disposal is a bad idea to put pumpkin pulp in because they have way to much, so they will flush it down their toilet instead.
This will only create a problem further down the drain line and create a stoppage in your main sewer line, resulting in you having to call a plumber.
So heed the advice from the plumber, Just throw it away!
One other word of wisdom, is to use a sharp knife. It will cut without as much force as a dull knife. In case you slip, the less force you are using will prevent deeper cuts. Be careful, have fun and watch out for the trick or treaters.
Should you be reading this after you have carved your pumpkin, the Sarasota plumbers at Wimpy's Plumbing & Air, Inc. are always ready to help you in your time of need.