Common Air Conditioner Problems & How to Fix Them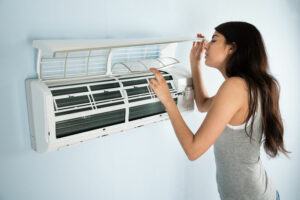 In our last post, we talked about some of the most common things that can go wrong with an air conditioner and cause you to ask "Why Is My Air Conditioner Not Cooling the House?". While those are the most common issues, we wanted to let you know about a few more. That way, you may be able to figure out why your air conditioner is not working on your own. This can alleviate your anxiety and help you feel better about your A/C situation. Of course, if you still need some help with your AC unit, Wimpy's Plumbing & Air is just a phone call away!
Your A/C Unit Leaks Water Outside
If your air conditioner is leaking water outside on a hot day when it has been running a lot, it may not be broken at all. It's also normal for units to leak when it has been cool out and then warmed up again as they can freeze inside and then thaw.
If, however, your air conditioner is not working and it's leaking, it's time to figure out why. Check your air filter first and change it if it's dirty. You can also check for a blocked drain pipe and a cracked condensate pan. If these are fully functional, call in a professional to check your coolant levels and make sure the AC unit is installed properly.
Your Thermostat Stops Working
If your air conditioner is working but not cooling, you may have a thermostat problem instead of a broken air conditioner. Try turning down your thermostat to see if that kicks on a cooling cycle. If it still doesn't work, look for the manual to your thermostat or pull it up online. These can be tricky to set properly and you may need instructions on how to do it right.
You can also use the manual to recalibrate your thermostat. This can fix a myriad of problems that you'd otherwise call in a professional to address.
You See Frost on Your Outdoor A/C Unit
If you're wondering, "Why is my air conditioner not working?" start by checking the outdoor unit. If you see a layer of ice or frost or you can feel that part of the unit seems to be freezing cold, turn it off and call a professional. You have a frozen evaporator coil and you'll need a pro to find out why it froze and resolve the issue.
Sarasota Air Conditioning Repair EXPERTS
Here at Wimpy's Plumbing & Air, we are always here for you, regardless of the issue you're having with your AC system. Call us whenever your air conditioner isn't working and we'll be there soon to provide expert air conditioning repair services!